24 Aug 2023
North Korea conducts cruise missile launch from new naval corvette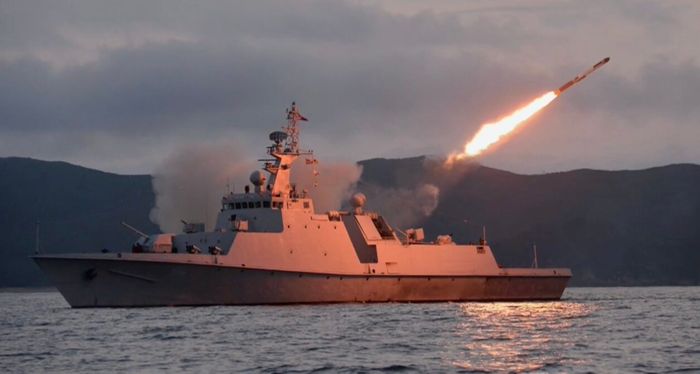 Originally posted on NK News
North Korean leader Kim Jong Un inspected the country's newest naval corvette and watched a strategic cruise missile test from the ship, according to state media on Monday, days after warning the U.S. about reconnaissance flights off the east coast.
The report also coincides with the U.S. and South Korea kicking off large-scale joint military drills on Monday.
According to the Rodong Sinmun, Kim called for "modernizing the arms and equipment of the Navy" during the inspection on the east coast, including "the building of a powerful vessel and the development of ship-based and subsurface weapon systems."
The North Korean military released a statement on Friday warning the U.S. that it planned to "constantly deploy a ship loaded with new-type anti-aircraft missiles" off the east coast, implying it would shoot down U.S. spy planes if they "intrude" into its exclusive economic zone (EEZ) despite it being international airspace.
However, the missile test shown and described in Monday's report did not appear to be of an anti-aircraft type of system. Instead, the missile appeared to be what state media calls a "Hwasal-2 strategic cruise missile" previously tested from mobile ground launchers and a submarine.
The report called the test a success and said the "regular mobilized posture and offensive capacity of the guardship were perfectly estimated."
"This expands the versatility of this ship quite a bit," North Korea military expert and co-founder of the Oryx military blog Joost Oliemans told NK News.
"Aside from a (formerly comparatively light) anti-ship capability, it now has the potential to conduct regional land attack missions," he said, adding that Hwasal cruise missiles "are also intended to be nuclear-capable, making this ship technically a part of North Korea's nuclear deterrent."
Photos suggest the ship is equipped with at least eight cruise missile launch tubes, according to Joseph Dempsey, research associate with the International Institute for Strategic Studies.
South Korea's Joint Chiefs of Staff (JCS) responded Monday by saying ROK and U.S. military assets "monitored [the ship] in real time" and that North Korea's report on the latest demonstration "is exaggerated and there are many parts that are different from the truth." JCS didn't elaborate on what it found false about the report or specify the date of Kim's inspection.
However, JCS appeared to tell select ROK media outlets in an off-record briefing that one or more Hwasal-2 cruise missiles flew a total distance of under 124 miles (200 km) off the coast of Wonsan and did not hit their target at sea. The outlets reported that the ship that fired the missiles was not constructed in the last 10 years, giving it a low chance of being successfully fitted with stealth technology.
NK News analysis of state media images shows that Kim inspected the ship at Korean People's Army (KPA) Navy Unit 155 in Munchon, north of Wonsan. It is located near a new bridge finished in 2018 that is meant to service a new large-scale naval base to the north, but this project has stalled and remains unfinished.
Monday's Rodong Sinmun report referred to the ship simply as "Patrol Ship no. 661," but North Korea watchers have called it an "Amnok-class" corvette since one first appeared to enter service on the east coast in 2017. The vessel has been based out of the east sea fleet headquarters at Rakwon near Hamhung.
The only other known Amnok-class corvette has been at Nampho port on the west coast for years and it is unclear if it is in service. The DPRK navy has also built two similar ships in the last decade unofficially called Tuman-class corvettes which do not have the Amnok-class's stealth characteristics.
State TV only started showing the Amnok-class corvettes crewed and at sea for the first time in June, appearing for just seconds at a time during propaganda music videos. The recent surge in coverage of this type of vessel may point to delays in putting it fully in service.
During his inspection of the "Guards 2nd Surface Ship Squadron," Kim emphasized that the Amnok-class ship plays a "crucial" role in carrying out his nuclear strike orders and "defending the sovereignty and security of the country in case of emergency."
"What is actually necessary in the battlefields is not the numerical and technical superiority of the arms and equipment, but the overwhelming ideological and spiritual might of the service personnel using them," he added, acknowledging the relatively small size of his naval fleet and echoing a similar statement he made about the country's aging air force last November.
Though Oliemans said the ship does not currently appear to be equipped with any weapons "that could threaten reconnaissance aircraft," another expert said Pyongyang still has options.
"The air defense on this ship is really weak, [but] maybe what they are referring to in [Friday's] statement is just putting some long-range air defense system on a civilian ship," Tianran Xu, an analyst with Open Nuclear Network, told NK News.
He said an existing surface-to-air missile (SAM) system like one shown off at the July 27 military parade could theoretically be equipped on a larger vessel with more deck space and tonnage to accommodate it and required heavy radar systems.
"Otherwise, it is hard to see how they can deploy a ship with long-range SAMs in the very near future," he added.
Xu said the Amnok-class ship's current anti-aircraft capabilities are limited to a man-portable air defense system (MANPADS), which targets low-flying aircraft.
Kim's undated naval base visit is his first public inspection of a surface vessel since 2018, though he has also overseen numerous submarine-launched missile tests and reportedly more than 30 tests of a new "underwater nuclear attack drone" in recent years.
It follows the DPRK leader's two tours of weapons factories and a Central Military Commission (CMC) meeting earlier this month — all focused on promoting the country's ability to strike South Korea with both nuclear weapons and new conventional weapons.
South Korea and the U.S. will conduct "Ulchi Freedom Shield (UFS)" joint military exercises from Aug. 21 through the end of the month. ROK intelligence officials have reportedly detected signs that Pyongyang could conduct an intercontinental ballistic missile (ICBM) launch in the coming days to respond to the drills.
The leaders of South Korea, the U.S. and Japan also agreed to boost joint security efforts to counter North Korea at a landmark trilateral summit in Maryland over the weekend.