16 Jan 2023
Norfolk Naval Shipyard docks 1st Virginia Class Block III sub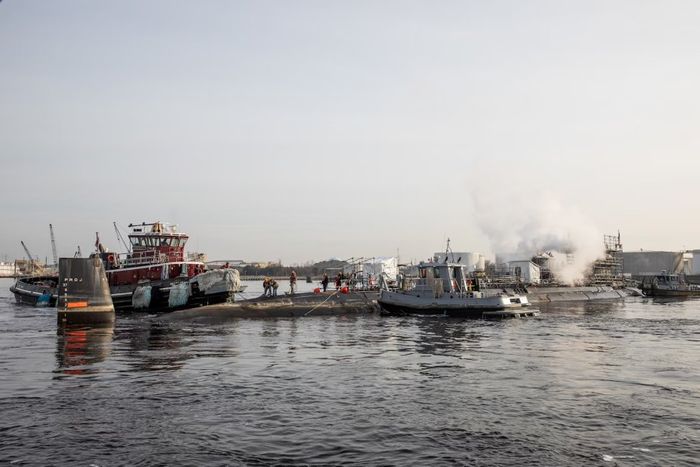 Originally posted on Naval Today
Norfolk Naval Shipyard (NNSY) in Portsmouth, Virginia, successfully docked the submarine USS John Warner (SSN 785) for the shipyard's first Chief of Naval Operations (CNO) Virginia-class Extended Dry-docking Selected Restricted Availability (EDSRA), on 11 of January.
A CNO availability is more extensive than other maintenance availabilities and is scheduled with the approval of the CNO. During an EDSRA, the submarine is drydocked to enable hull, propulsion system, and modernization upgrades, allowing the submarine to remain fully operational for its planned service life.
"This is a first not only for America's Shipyard but our corporation as a whole, as we dock our first Virginia Class Block III, providing critical repair and modernization upgrades to one of our nation's greatest assets," said Shipyard Commander Capt. Dianna Wolfson. "Our extensive preparation has positioned us well for a very strong start to this availability."
Block III refers to submarines procured during the third, or Block III, Virginia Class acquisition contract. The submarines are redesigned, enabling a cost avoidance of approximately 20 percent in acquisition costs.
"Preparations for this availability required extensive teaming and learning from both Pearl Harbor Naval Shipyard and Intermediate Maintenance Facility and Portsmouth Naval Shipyard as they have executed Virginia-class CNO availabilities in the past," said Jed Sweigart, project superintendent.
"The project team has been teaming extensively to complete the work package. This partnership has been excellent as we prepare to service John Warner."
Commissioned Aug. 1, 2015, John Warner is the 12th Virginia-class attack submarine. The submarine, under the operational command of Commander, Submarine Force Atlantic, arrived at NNSY following a deployment where it directly supported the nation's maritime strategy.