24 Aug 2023
New Frigate HMS Venturer takes shape in Rosyth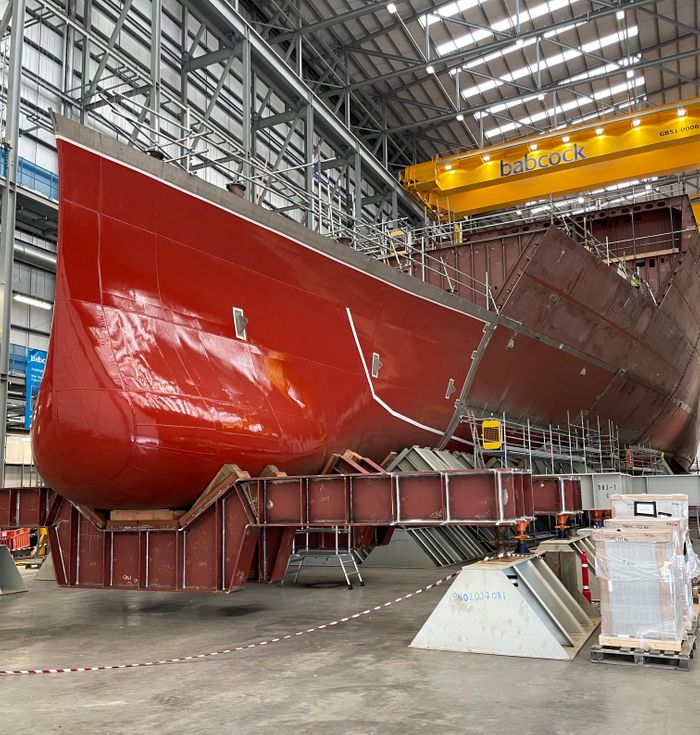 Originally posted on Royal Navy News
Gleaming in its red paint and complete, this is the bright, bulbous bow of HMS Venturer, the first of the Royal Navy's new Type 31 frigates.
Under 18 months since her keel was laid, Venturer is beginning to resemble a warship as the giant units and blocks which make up the vessel are slotted into place with pinpoint accuracy by Babcock at their Rosyth site.
The bulbous bow (not quite as bulbous as, say, the RN's aircraft carriers but still distinctive) is a marvel of marine engineering which modifies the way water flows around the hull, reducing friction as the frigate cuts through the oceans, reducing fuel usage and helping to extend the range, while also supporting the vessel's stability.
Taking shape beside Venturer is the second Type 31 HMS Active, with several lower hull sections of the ship already constructed in situ in the assembly hall – fittingly named the Venturer Building.
Active passes a symbolic milestone next month when her keel is laid in a ceremony which blends modern shipbuilding methods with naval history; a specially-minted HMS Active coin, designed by a child of one of the Babcock employees responsible for building the ship, will be placed under the keel – it is said to bring the ship and her crew good luck.
When complete the duo – the first two of five in their class – will be longer (by about five metres) and heavier (circa 1,000 tonnes) than the Royal Navy's existing Type 23 frigates… but with around half the crew.
All five Type 31s – the Inspiration class, for their forebears committed deeds which inspire (in Venturer's case, her predecessor was a WW2 submarine which sank a U-boat while both were submerged) – will conduct general-purpose duties around the globe when in service later this decade, are being built by Babcock in Rosyth.
Units – or blocks – are constructed in separate manufacturing areas at Rosyth, then carefully moved on what the shipwrights call self-propelled motor transport (SPMTs) – powerful remote-controlled low-loaders which can move sections up to 250 tonnes in weight, or heavier if more than one is used.
They are normally moved upside down for ease of transport, taken to the paint hall and, once painted, the enormous Goliath crane (the largest in the UK, dominating the skyline of the Forth's northern shore) turns the blocks around ready for transferring into the assembly hall to join the rest of the ship.
Among the sections now in place on Venturer are her spine/backbone – the lowest parts of the frigate, such as the bow and keel, including Grand Blocks 01 (which includes the rudder and transom) and next to it 02.