16 Mar 2023
The Netherlands to deliver two Alkmaar-class minehunters to the Ukrainian Navy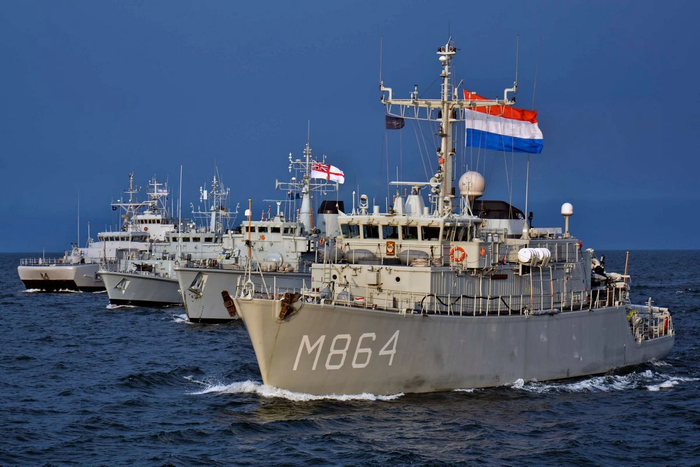 Originally posted on Mezha Media
During a joint press conference of Minister of Defense of Ukraine Oleksii Reznikov and Minister of Defense of the Kingdom of the Netherlands Kajsa Ollongren in Odesa, it was announced that the Netherlands will hand over two Alkmaar-class minehunter to the Navy of Ukraine, reports Militarnyi.
Ukraine will receive these ships only in 2025, and it is not yet known which of the Alkmaar-class ships of the Royal Navy we are talking about. Currently, only 5 ships of this class remain in the active fleet of the Netherlands. The Netherlands and Belgium will also prepare Ukrainian sailors for service on these ships.
"We understand the strategic and economic importance of harbors in Odesa in order to import food in order to trade and this, of course, has a connection with the rest of the world. The Netherlands provides two Alkmaar-class minehunters and we will start preparing Ukrainian units so that they know how to use these ships," Ollongren said.
Please note that Alkmaar are not minesweepers, they do not clear the water area with a special trawl, they search for and destroy individual mines.
Minehunters of the Tripartite class are a joint project of the Netherlands, France, and Belgium. In the Netherlands, it was named Alkmaar in honor of the flagship of the national fleet. A total of 40 Tripartite class ships were built from 1977 to 1995, 15 of which were delivered to the Netherlands. Currently, ships of this class are part of the fleets of France, Belgium, the Netherlands, Bulgaria, Indonesia, Latvia, and Pakistan. All other operators, except for the initial three, are exports of ships withdrawn from the fleets of France, Belgium, and the Netherlands.
Since 2003, Alkmaar-class ships have been modernized. Advanced electronics were installed, including the Atlas Elektronik INCMS Naval Tactical Data System; Thales 2022 Mk III sonar; Atlas Seafox and Double Eagle Mk III Mod 1 ROV mine identification and disposal system.
We will remind you that currently the largest combat ship of the Navy of Ukraine is the Pryluky missile boat, built in 1979, which has a standard displacement of only 230 tons.
But in Great Britain they are already preparing to transfer to Ukraine minehunters Cherkasy and Chernihiv of the Sandown class, and in Turkey Hetman Ivan Mazepa Corvette of the Navy of Ukraine of Ada MILGEM class was launched. Construction of the second Ada-class corvette has already begun.
Specifications of Tripartite / Alkmaar minehunters
Displacement – 571 t (standard), 605 t (full)
Length – 51.6 m
Width – 8.9 m
Draught – 3.8 m
Propulsion – 1 × Brons-Werkspoor A-RUB 215V-12 1400 kW (1900 hp) diesel engine, 2 × 180 kW (240 hp) ACEC active rudders, 1 × bow thruster
Speed – 15 knots (28 km/h)
Range – 3000 nmi (5600 km) at 12 knots (22 km/h)
Complement – 55
Sensors – 1 × DUBM 21B sonar; 1 × Decca 1229 navigation radar
Armament – 1 × 20-mm modèle F2 gun; 2 × 12,7-mm machine guns; 2 × 7,62-mm machine guns