25 Jan 2023
US Navy's lead America-class ship test fires RIM-116 missile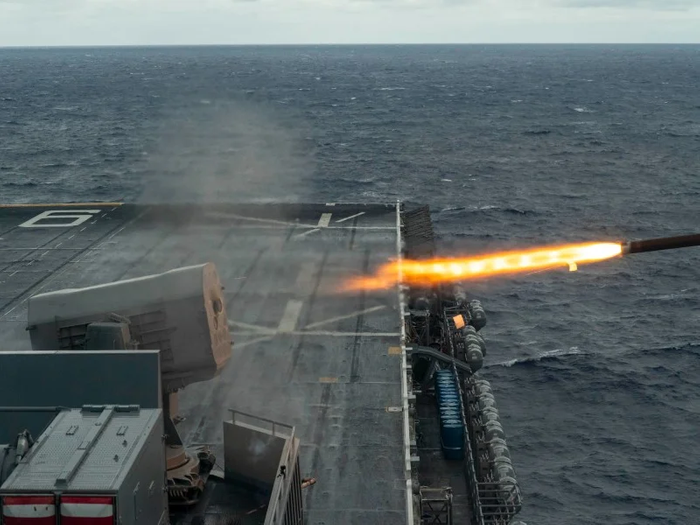 Oriignally posted on Naval Technology
The US Navy's lead America-class amphibious assault ship, USS America (LHA 6), has carried out a RIM-116 rolling airframe missile (RAM)-launch in the Philippine Sea.
The test launch was performed on 24 January. The forward deployed vessel was conducting its routinely missions in the 7th Fleet area of operations.
The latest test launch involved the crew members, deployed aboard America-class landing helicopter assault (LHA), to detect, track and intercept a target using RIM-116 RAM.
This allowed the participating personnel to assess and hone their warfighting skills and readiness, while also validating the efficiency and capabilities of the ship's onboard weapons systems.
USS America operations officer commander Avery Wilson said: "This exercise demonstrated our team's ability to work together, coordinate across multiple departments, and ultimately execute safely and effectively.
"We demonstrated that through the hard work of our technicians and logistics support, our equipment is fully operational and our watch-standers in the Combat Information Centre are trained and prepared for any threat."
LHA 6 is deployed as the lead ship of the America Amphibious Ready Group (ARG) to bolster and maintain freedom of navigation, security and stability in the Indo-Pacific region.
The ARG also includes the US Navy's Amphibious Squadron 11 and San Antonio -class amphibious transport dock, USS Green Bay (LPD 20).
USS America commanding officer captain Shockey Snyder said: "The ship has to always be ready to deploy a lethal combat capability if necessary.
"This evolution reminds every Sailor aboard this ship that they, as tactical watch standers, are the tip of the spear and we are ready to execute the nation's defence strategy."
Last year, a Nimitz-class vessel, USS George HW Bush (CVN 77), conducted a similar test-firing of RIM-116 missile.