07 Sep 2023
US Navy Reveals Contract Costs of Latest 10-Hull Destroyer Deal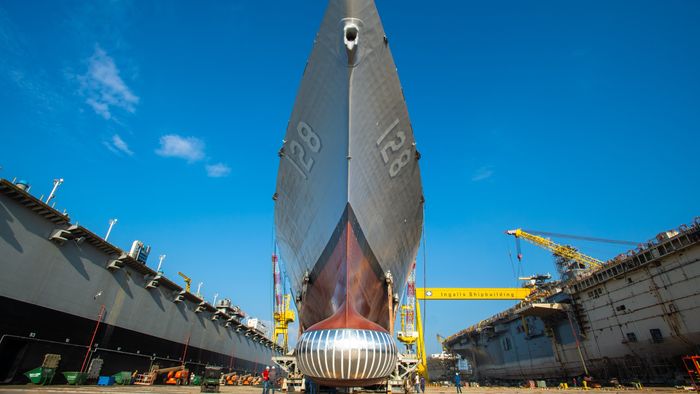 Originally posted on USNI News
A month after the Navy inked a deal for 10 Flight III guided-missile destroyers, the service has disclosed how much it's paying the shipbuilders in total.
According to a Wednesday addendum to a Pentagon contract announcement, the Naval Sea Systems Command is paying a combined total of $14.5 billion to HII Ingalls Shipbuilding and General Dynamics Bath Iron Works. The announcement didn't break costs between the two shipyards.
For the Fiscal Year 2023 options, Bath Iron Works was awarded the future USS Thomas Kelley (DDG-140), which was named by Secretary of the Navy Carlos Del Toro in January. Ingalls was awarded DDG-141 and DDG-142.
Between now and Fiscal Year 2027 Ingalls is set to build seven ships and BIW to build three for a total of ten ships between the two yards. There are an additional five hull options built into the contract for a total of 15 possible ships. Last month, Navy officials said the multi-year contract structure saved the service about $830 million.
The contracts pay for the about half of the final $2 billion cost of the Flight III destroyers. The shipyards are responsible for the fabrication of the hull and the mechanical and electrical systems for the destroyer while the other half of the cost is reserved for government furnished equipment that includes items like the AN/SPY-6 air and missile defense radar.
In the previous 2018 multi-year deal for a mix of Flight IIA and Flight III hulls. Ingalls was awarded $5.1 billion for six hulls and BIW $3.9 billion for four. Divided evenly, Ingalls built their ships for $850 million a hull and BIW for $975 million a hull.
Ingalls is gaining more shipyard capacity at its Pascagoula, Miss., facility as the Legend-class National Security Cutter program is winding down. Meanwhile BIW is still working through a persistent backlog of work at their Bath, Maine, shipyard.
BIW delivered USS Carl M. Levin (DDG-120), a Flight IIA destroyer, in January. The ship was commissioned in June. The Maine yard laid the keel for its first Flight III, Louis H. Wilson (DDG-126), in June. Bath is working on destroyers Harvey C. Barnum Jr. (DDG-124), John Basilone (DDG-122), Patrick Gallagher (DDG-127), Quentin Walsh (DDG-132) and William Charette (DDG-130), USNI News previously reported.
Ingalls delivered the first Flight III, Jack Lucas (DDG-125), to the Navy in June. Lucas is set to commission next month. Four Flight III destroyers are at its yard in Pascagoula: Ted Stevens (DDG-128), Jeremiah Denton (DDG-129), George M. Neal (DDG-131) and Sam Nunn (DDG-133). Ted Stevens was launched last month.
The following is the complete Sept. 6, 2023 Pentagon statement.