08 Aug 2022
US Navy retires Ticonderoga-class cruiser after three decades of service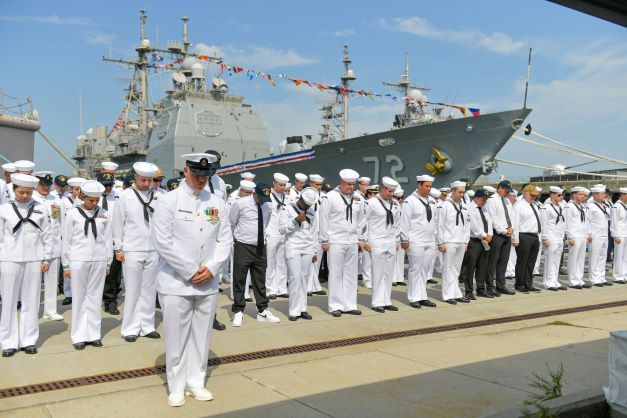 Originally posted on NavalToday by Fatima Bahtić
The US Navy has decommissioned USS Vella Gulf (CG 72), a Ticonderoga-class cruiser, after 29 years of service.
The ceremony marks the first of five cruisers set to be decommissioned this year. The event comes just months before the ship's 29th commissioning anniversary.
Vella Gulf was built at Ingalls Shipbuilding and commissioned in Norfolk in September 1993.
The ship was named in commemoration of the World War II Battle of Vella Gulf, which was fought in the area surrounding the Solomon Islands in the Pacific Ocean in1943.
The battle saw six American destroyers successfully disrupt the Imperial Japanese Navy's supply lines without taking a single casualty or damage from enemy fire.
The Ticonderoga-class guided-missile cruiser is the second US Navy warship to be named for the battle following the Commencement Bay-class escort carrier USS Vella Gulf (CVE 111).
In 1999, the crew participated in NATO strikes against Serbia in an effort to stop government-sanctioned human rights abuses against ethnic Albanians in the Kosovo region.
In 2001, Vella Gulf answered the call, taking part in the national effort to provide homeland defense for the country's northeastern region immediately following the terrorist attacks of 11 September. The crew supported air traffic control efforts as the air defense commander, controlling protocols for an area spanning from Boston to Washington D.C.
In 2017, the Vella Gulf joined Carrier Strike Group 11. During its assignment, it supported strikes against ISIS in Iraq and Syria.
In 2020 the Vella Gulf crew completed perhaps the most challenging deployment of the ship's career, deploying to the Middle East and Europe with the USS Eisenhower Strike Group.
After decommissioning, the ship is slated to be towed to the US Navy's Inactive Ship's facility in Philadelphia in October. There, it will be in a Logistical Support Asset status.