18 Jan 2023
US Navy Performs First-Ever Aircraft Repair at Sea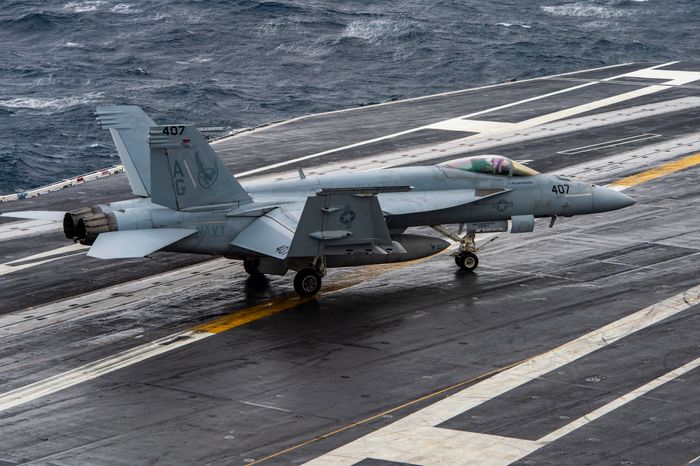 US Navy Press Release
Specialists from Fleet Readiness Command Centers (FRC) Southwest (FRCSW) and Southeast (FRCSE) completed first-of-its-kind repairs at sea on an F/A-18E Super Hornet, attached to Strike Fighter Squadron (VFA) 136, Jan. 9, 2023. The engineers repaired damages from an in-flight starboard engine fire that occurred on Aug. 31, 2022, cutting down repair times and preserving the operational readiness and mission capabilities of Carrier Strike Group (CSG) 10 and Carrier Air Wing (CVW)
The degree of fire and heat damage to the 68R door skin, vent screen, formers, S11 skin, starboard engine bay, and all accompanying hardware would normally result in the aircraft being inoperable for the remainder of deployment, and craned off the ship and transported to a location capable of handling the repairs upon return to homeport.

"The fire damage identified was extensive enough to require an engineering investigation to determine the feasibility for a repair at-sea, but we were committed to getting the aircraft back into the sky as soon as possible," said Lt. Cmdr. Russell Huff, maintenance officer of CVW-7.

"Since this was the first-ever at-sea replacement of a 68R Door and S-11 Skin, considerable time was required to plan and approve the repair. Once the engineers had believed this repair could be accomplished at-sea, or at least that a repair could be attempted, things went very smoothly."

The engine fire took place during routine flight operations shortly after the start of CSG-10's scheduled deployment. Relying on the strength of the aircraft's second engine and the certainty of Navy procedures and training, the pilot acted decisively to safely land aboard the Nimitz-class aircraft carrier USS George H.W. Bush (CVN 77). After landing, maintainers evaluated the aircraft and found there were noticeable charring and burns on multiple components.

The teams aboard the ship were not satisfied with the status quo, which would have meant the aircraft would be in the hangar bay waiting repairs until it could be craned off. And so, their work to convince engineers that the repairs were possible to do at sea began immediately.

After many emails and phone calls, FRCSW, FRCSE and other commands at Naval Air Station (NAS) Oceana, NAS Sigonella, and Naval Station Norfolk prepared the technical experts, tools, and parts for delivery to George H.W. Bush on deployment.

"Coordinating logistics efforts across multiple bases, FRCs, and supply ships was a challenge worth undertaking to prove we could maintain full capabilities at sea," said Cmdr. Donald McIntyre, supply officer for George H.W. Bush. "Coordinating tools and parts for repairs and maintenance is regular business for the supply department, but helping VFA-136 push the boundaries of what experts thought was possible was our unique pleasure."

All of the harmonization and relationship building took more than three months, but the result was the improved tactical air capacity of the deployed strike group and a pathway for future cooperation between FRCs and deployed units in similar situations.

"The expert repairs of the FRC artisans proves it's possible to perform this crucial maintenance in a deployed environment, making us a more lethal fighting force and providing a springboard to return even greater repair capability back out to sea." said Capt. Thomas Bodine, commander, CVW-7. "Asset readiness and operational readiness are inseparable. Our ability to maintain and repair our aircraft while underway is a critical warfighting competency. The resounding success of this significant at-sea repair, along with those that will surely follow, will enable the Navy's Carrier Air Wing force to deliver decisive combat victories, today, tomorrow, and for many years to come."

Ultimately, it took 33 days to complete these first-of-their-kind repairs at sea after the craftsmen and parts arrived aboard. Due to the effort of Sailors and leaders from CVW-7 and VFA-136 as well as the expertise and adaptability of the specialists from FRC Southwest and Southeast, the repairs were completed while deployed, demonstrating the capacity of deployed aircraft carriers to effectively manage and employ a full range of warfare capabilities.

The George H.W. Bush CSG is on a scheduled deployment in the U.S. Naval Forces Europe area of operations, employed by U.S. Sixth Fleet to defend U.S., allied, and partner interests.

George H.W. Bush is the flagship of CSG-10, George H.W. Bush CSG. CSG-10 is comprised of George H.W. Bush, CVW-7, Destroyer Squadron (DESRON) 26, the Information Warfare Commander, and the Ticonderoga-class guided-missile cruiser USS Leyte Gulf (CG 55).

The ships of DESRON-26 within CSG-10 are the Arleigh Burke-class guided-missile destroyers USS Nitze (DDG 94), USS Farragut (DDG 99), USS Truxtun (DDG 103), and USS Delbert D. Black (DDG 119).

The squadrons of CVW-7 embarked aboard the George H.W. Bush are the "Sidewinders" of VFA-86, the "Jolly Rogers" of VFA-103, the "Knighthawks" of VFA-136, the "Pukin Dogs" of VFA-143, the "Bluetails" of Carrier Airborne Early Warning Squadron (VAW) 121, the "Patriots" of Electronic Attack Squadron (VAQ) 140, the "Nightdippers" of Helicopter Sea Combat Squadron (HSC) 5, and the "Grandmasters" of Helicopter Maritime Strike Squadron (HSM) 46.

For over 80 years, NAVEUR-NAVAF has forged strategic relationships with allies and partners, leveraging a foundation of shared values to preserve security and stability.

Headquartered in Naples, Italy, NAVEUR-NAVAF operates U.S. naval forces in the U.S. European Command (USEUCOM) and U.S. Africa Command (USAFRICOM) areas of responsibility. U.S. Sixth Fleet is permanently assigned to NAVEUR-NAVAF, and employs maritime forces through the full spectrum of joint and naval operations.