27 Jun 2023
US Navy commissions guided-missile destroyer USS Carl M. Levin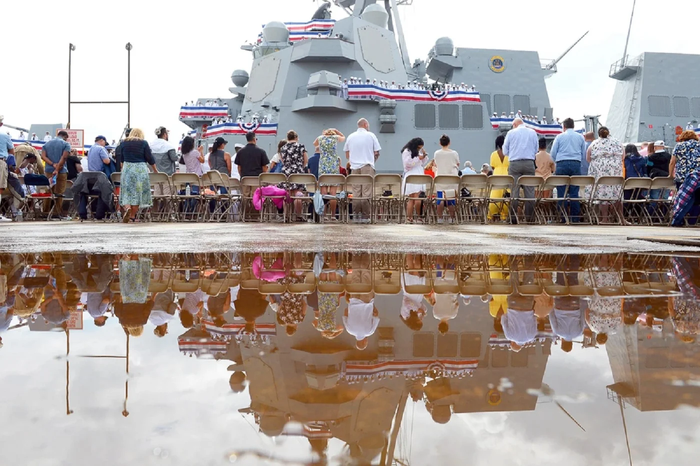 US Navy Press Release
The United States Navy commissioned its newest Arleigh Burke-class guided-missile destroyer, USS Carl M. Levin (DDG 120), in a ceremony held in Baltimore, Maryland.
The ship's commissioning paid tribute to the late Senator Carl M. Levin, who served as an advocate for the armed services during his 36-year tenure in the US Senate. The event featured prominent dignitaries and representatives, highlighting the ship's capabilities and role in the DDG 51 program.
The commissioning ceremony took place at 10:00 a.m. EDT on Saturday, 24 June.
The Honorable Carlos Del Toro, Secretary of the Navy, delivered the commissioning ceremony's principal address. Other notable speakers included Admiral Michael Gilday, Chief of Naval Operations, the Honorable Justin Williams, deputy mayor of the City of Baltimore, and Mr Charles F. Krugh, president of General Dynamics Bath Iron Works, the ship's manufacturer.
Senator Levin's daughters, Kate Levin Markel, Erica Levin, and Laura Levin, will sponsor the ship.
Senator Levin is the longest-serving senator in Michigan state history and was a steadfast supporter of the armed services. Throughout his tenure, he demonstrated leadership as Chairman and Ranking Member of the Senate Committee on Armed Services.
Senator Levin passed away on 29 July, 2021, leaving a legacy of dedication to national defence.
The ship, which will be homeported at Joint Base Pearl Harbor-Hickam, will be the 72nd Arleigh Burke-class destroyer to be commissioned, with 17 additional ships currently under contract for the DDG 51 program. The ship is configured as a Flight IIA destroyer, which enables power projection and delivers quick reaction time, high firepower, and increased electronic countermeasures capability for anti-air warfare. The USS Carl M. Levin is 509.5 feet long and 59 feet wide, with a displacement of 9,496 tons. It will be homeported in San Diego.
The DDG 51-class guided missile destroyers are warships that provide multi-mission offensive and defensive capabilities. Destroyers can operate independently or as part of Carrier Strike Groups, Surface Action Groups, and Expeditionary Strike Groups.
Features
Guided-missile destroyers are multi-mission surface combatants capable of conducting Anti-Air Warfare (AAW), Anti-Submarine Warfare (ASW), and Anti-Surface Warfare (ASuW). The destroyer's armament has greatly expanded the role of the ship in strike warfare utilizing the MK-41 Vertical Launching System (VLS), and, beginning with ships equipped with Aegis Baseline 9, Ballistic Missile Defense (BMD).
Background
The Arleigh Burke class (DDG 51) destroyers replaced the Charles F. Adams class (DDG 2). The Arleigh Burke class was designed with an all-new hull form, incorporating much of the Spruance class (DD 963) destroyer propulsion and machinery plant, and the integrated Aegis Weapons System (AWS) proven on the Kidd class (DD 993) destroyers and installed on the larger Ticonderoga class cruisers. The AWS is composed of a multi-function phased array radar, advanced AAW and ASW systems, VLS, and the Tomahawk Weapon System. DDG 51 was commissioned on July 4, 1991, and the class is still in production. The class has been continuously upgraded with advanced sensors and weapons and improved support systems.
The Arleigh Burke class employs all-steel construction and comprises four separate variants or "Flights." DDGs 51-71 represent the original design and are designated as Flight I; DDGs 72-78 are Flight II ships; and DDGs 79-124 and DDG 127 are Flight IIA ships. The Flight III baseline begins with DDGs 125-126 and continues with DDG 128 and follow.
The DDG 51 Flight III upgrade is centered on the AN/SPY-6(V)1 Air and Missile Defense Radar (AMDR) system that provides vastly increased capability over Flight IIA ships. The AMDR enables Flight III ships to simultaneously perform AAW and BMD, which satisfies the Navy's critical need for an enhanced surface combatant Integrated Air and Missile Defense (IAMD) capability.
Seventy-one DDG 51 class ships have been delivered to the fleet (DDGs 51 -119, 121, 123), with 18 more on contract and 12 ships in various stages of construction.
A DDG modernization program is underway to provide a comprehensive mid-life upgrade that will ensure the DDG 51 class will maintain mission relevance. The modernization changes are also being introduced to new construction ships to increase the baseline capabilities of the newest ships in the class, and to provide commonality between new construction ships and modernized in-service ships. The goal of the DDG modernization effort is to reduce workload requirements and increase warfighting capabilities while reducing total ownership cost to the Navy. To date, 37 modernizations have been completed or are in progress and an additional 17 modernizations are planned through the Future Years Defense Program.