05 Jul 2023
Navantia starts production of submarine rescue ship BAM-IS for Spanish Navy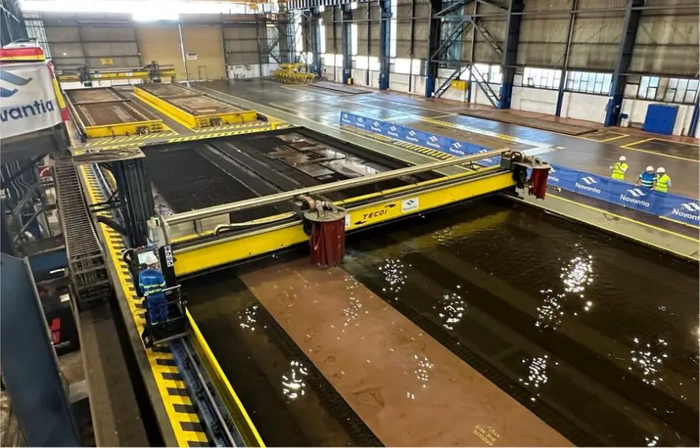 Navantia Press Release
The shipyards of Navantia in Puerto Real and San Fernando have started the production phase of a Submarine Intervention Maritime Action Ship (BAM-IS) for the Spanish Navy and one Offshore Patrol Vessel (OPV) for the Royal Moroccan Navy.
In both cases, the maneuver involved cutting the first plate of a pilot block to optimize production systems. The construction of this block, which belongs to the ship's engine room, will allow the implementation and testing of new digital design, control, and management tools in the shipyards. The BAM-IS will be the first ship built in the Puerto Real shipyard to utilize these tools.
The BAM-IS, named 'Poseidon,' will be a specialized platform equipped for submarine rescue and support operations. It will become the Navy's main unit for diving operations, eventually replacing the rescue and salvage ship 'Neptune' in 2026.
The construction of the BAM-IS addresses the need associated with the S-80 submarines, aiming to provide support and ensure the safety of the crew throughout their operational life.
The BAM-IS has a distinctly modular character. With its spacious working deck exceeding 400 m², it can accommodate various modular systems, allowing it to adapt to different mission profiles such as diving operations, submarine rescue, and salvage, protection of underwater heritage, and more.
It is equipped with an innovative propulsion and power generation system based on direct current technology, energy storage systems, and cycloidal propellers, enabling precise dynamic positioning even in adverse weather conditions, while complying with the most stringent environmental standards.
Moreover, this new Navy unit will be capable of operating with the NATO Submarine Rescue System (NSRS). Among other qualities, this will enable it to become the first Navy vessel to obtain the "MOSHIP" certification to act as a mothership for NATO submarine rescue systems. Additionally, it will feature remotely operated underwater vehicles (ROVs) capable of conducting subaquatic exploration and interventions.
Technical data
The ship has a crew capacity of 60 persons and measures 91 meters in length, 19 meters in beam, and has a draft of 5.1 meters. With a displacement of 5000 tons, she is propelled by an electric propulsion system.
The maximum sustained speed of the platform is 15 knots, while the economical speed ranges from 9 to 14 knots. she has an impressive range of 2400 nautical miles at a speed of 15 knots. The vessel is equipped with 3 RHIBs for various operations and additionally features a flight deck.