23 Aug 2023
Leidos selected by U.S. Navy to operate and sustain medium unmanned vessels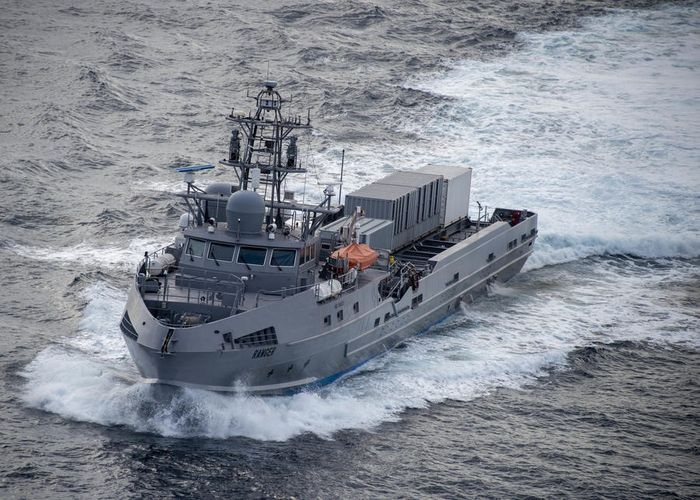 Leidos Press Release
Leidos , a FORTUNE® 500 science and technology leader, was recently awarded a new task order by Naval Sea Systems Command to manage, operate and maintain the U.S. Navy's Overlord and medium unmanned surface vessels (USVs). The single-award task order has a one-year base period of performance and two one-year options. The task order has a maximum value of approximately $95 million if all options are exercised.
"Leidos is leading a new era of naval operations," said Gerry Fasano, Leidos Defense Group president. "The Leidos team has unmatched experience and expertise in autonomous vessel design and operations, delivering four operational medium-sized USV platforms to the Navy so far. We look forward to helping the Navy accelerate this important work and providing new capabilities at the tip of the spear."
"This task order starts an important phase in the Navy's evolution of USVs and integrating them into distributed maritime operations," said Dave Lewis, Leidos Defense Group senior vice president and Maritime Systems operations manager. "The power of this technology lies in its ability to operate independently and extend the horizon of crewed ships. We look forward to supporting the Navy as they continue this important journey into the future."
Leidos has delivered four operational medium-sized USVs currently in the Navy's fleet: Ranger, Mariner, Sea Hunter, and Seahawk. This contract will expand Leidos' experience managing USV operations and maintenance.
Read more about Leidos' maritime autonomy approach here.
About Leidos
Leidos is a Fortune 500® technology, engineering, and science solutions and services leader working to solve the world's toughest challenges in the defense, intelligence, civil, and health markets. The company's 46,000 employees support vital missions for government and commercial customers. Headquartered in Reston, Virginia, Leidos reported annual revenues of approximately $14.4 billion for the fiscal year ended December 30, 2022. For more information, visit www.Leidos.com.
Certain statements in this announcement constitute "forward-looking statements" within the meaning of the rules and regulations of the U.S. Securities and Exchange Commission (SEC). These statements are based on management's current beliefs and expectations and are subject to significant risks and uncertainties. These statements are not guarantees of future results or occurrences. A number of factors could cause our actual results, performance, achievements, or industry results to be different from the results, performance, or achievements expressed or implied by such forward-looking statements. These factors include, but are not limited to, the "Risk Factors" set forth in Leidos' Annual Report on Form 10-K for the fiscal year ended December 30, 2022, and other such filings that Leidos makes with the SEC from time to time. Readers are cautioned not to place undue reliance on such forward-looking statements, which speak only as of the date hereof. Leidos does not undertake to update forward-looking statements to reflect the impact of circumstances or events that arise after the date the forward-looking statements were made.