22 Feb 2023
Kongsberg to supply equipment for Italian Navy SDO-SuRS vessel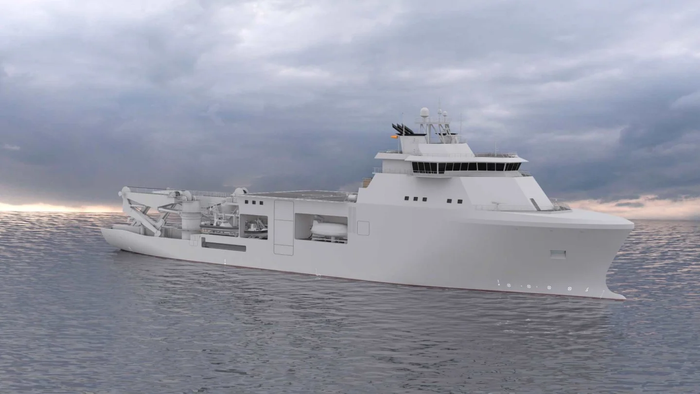 Originally posted on Naval Technology
Kongsberg Maritime has received an order to deliver a host of equipment to a newbuild vessel, called SDO-SuRS (Special and Diving Operations – Submarine Rescue Ship) for the Italian Navy (Marina Militare Italiana).
This vessel is to be constructed by Italian shipyard T.Mariotti for the Italian Navy.
The order will see delivery of a pair of Kongsberg Elegance propulsion pods.
The Elegance pod system aboard the vessel will bring together the direct electric permanent magnet motor driven pods as well as Kongsberg electric power system, including power management system and batteries.
These Elegance pods offer propulsion to ensure accurate and efficient vessel operation.
Besides featuring a hydrodynamic design that was developed at Hydrodynamic Research Centre of Kongsberg, the permanent magnet electric motor offers optimal efficiency even when the vessel is operating at a large speed range.
Compactly designed, the pods have a low oil content as well as double barrier seal solution to protect the ocean.
These pods enable the vessels to run in completely electric zero emissions mode either in port or for limited offshore operations.
As per the order, Kongsberg Maritime will also deliver three tunnel thrusters, Mcon propulsion control system, DP3 (Dynamic Positioning) system, and single and multibeam echo sounders.
The 120m newbuild vessel will replace Nave Anteo, which has now come to the end of its life after more than four decades in operation.
While the new vessel meets the requirement for a specialised unit for the search and rescue of damaged submarines, it will also provide support to a wide range of military and civil underwater activities, as well as special operations.
Kongsberg Maritime SVP sales Ottar Ristesund said: "This contract represents the start of an exciting market development for the Elegance pod propulsion systems.
"The quiet, efficient operation of these traction propeller equipped units aboard the SDO-SuRS vessel will help show the naval shipbuilding industry that the way ahead is with permanent magnet pod propulsors.
"Not only do they offer the end user an efficient, noiseless, carbon-reducing future-proof propulsion platform, shipyards love them too as the units utilize simple interfaces that allow safe and easy fitting to the hull"
T.Mariotti managing director Marco Ghiglione said: "SDO SuRS is a demanding project and requires the highest level of technology to ensure performance and safety. She will be powered by KONGSBERG, definitely a reliable partner for T.Mariotti Shipyard. We are glad to share with them this sophisticated appointment."