22 Nov 2022
Japanese Maya-Class Destroyers Test-Fire SM-3 Missiles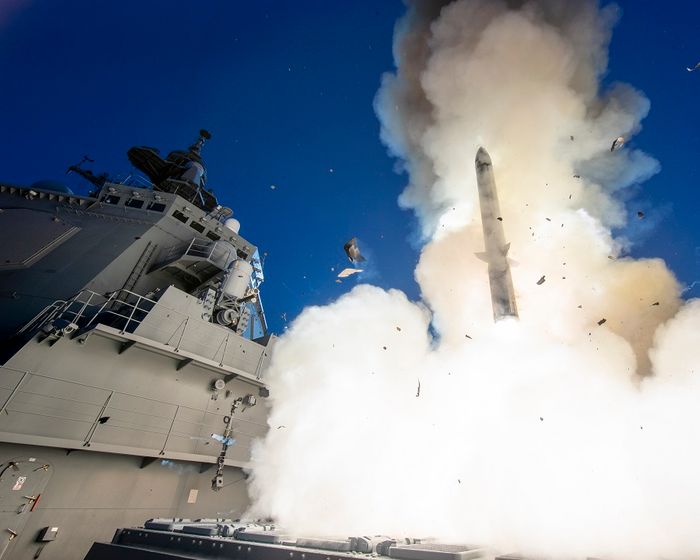 Originally posted on Naval News
As part of the tests, JS Maya conducted a test firing of the SM-3 Block IIA, an advanced BMD interceptor missile jointly developed by the United States and Japan, on November 16. Sistership JS Haguro conducted a test firing of the Block IIB variant of the missile on November 19. Both tests took place in the vicinity of Hawaii with support from the U.S. Navy and the U.S. Missile Defense Agency. The target was launched from the U.S. Navy Missile Range Facility on the island of Kauai.
The event marked the first launch of the SM-3 Block IIA from Japanese warships. The JMSDF announced the test-fire result as successful, enhancing Japan's ballistic missile defense (BMD) capabilities. The destroyers also conducted a simulated launch to confirm the new functions.
16, 19 NOV, JS MAYA & HAGURO successfully hit targets through SM3 launch tests to confirm BMD function in the vicinity of Hawaii. SM3BLKⅡA is🇺🇸🇯🇵bilateral development & the first launch by🇯🇵, and symbolizes the high development capabilities of🇺🇸🇯🇵as well as ironclad🇺🇸🇯🇵alliance. pic.twitter.com/hiPVcDTXks

— Japan Maritime Self-Defense Force (@jmsdf_pao_eng) November 21, 2022
About Maya-class destroyers
J
S Maya. JMSDF picture.
Originally known as 27DDG (This means that she was built in the FY2015 budget.), this new project of improved Aegis destroyers started in 2015. The new destroyer class is 170 meters long and displaces 8200 tons. She operates with a crew of 310 sailors, and features a COmbined Gas turbine-eLectric And Gas turbine (COGLAG) propulsion system.
This new destroyer class will be limited to two units named after famous mountains in Japan: The first ship-in-class, JS Maya まや (DDG-179), had its keel laid in April 2017, was launched on July 30th 2018 and commissioned with the JMSDF on 19 March this year. Its sistership, JS Haguro はぐろ(DDG-180) had its keel laid in January 2018, was launched on July 17th 2019 and commissioned in March 2021.
Each ship costs around US$1,5Bn and both were being built at the Japan Marine United (JMU) shipyard at Isogo Ward in Yokohama. The Maya-class is the first of JMSDF's Aegis destroyers fitted with ballistic missile defense (BMD) capabilities from the design stage, and is also the first of Japan's AEGIS fleet to be equipped with Cooperative Engagement Capability (CEC) from the start. The CEC allows the ship to receive targeting information from other assets, such as US Navy and Royal Australian Navy AEGIS destroyers or American and Japanese E-2D AEW&C aircraft. Japan has four E-2D Advanced Hawkeye aircraft on order, with the first one delivered on March 29 to the Japan Air Self-Defense Force.
Weapon and sensor systems
Maya-class destroyer Haguro starting sea trials. Picture by @Alsace_class
Fitted with the AEGIS Baseline J7 combat system, the AN/SPY-1D(V) passive electronically scanned array radar and the AN/SPQ-9B surface search radar, the Maya-class destroyers is able to fire the latest iteration of Raytheon's SM-3 ballistic defense missile. Being jointly developed by the U.S. and Japan, the SM-3 Block IIA features larger rocket motors that will allow it to defend broader areas from ballistic missile threats and a larger kinetic warhead.
The Maya-class features 96 cells of Mk41 VLS (64 cells forward and 32 cells aft). Other weapon systems of the Maya-class include:
SM-6 also known as RIM-174 Standard Extended Range Active Missile (ERAM)
SM-2MR Block IIIB Surface to Air Missiles
Type 07 Vertical Launch Anti-submarine rocket
Type 90/17 anti-ship missiles
Mk 45 Mod 4 127mm main gun
2x Phalanx CIWS
2x HOS-302 triple torpedo tubes (for Mk-46 or Type 73 torpedoes)
The SM-6 is a multi-mission missile that can engage both air and surface targets. According to our Japanese sources, SM-6 was scheduled to be procured in Japan's defense budget of FY2019, but procurement was postponed due to shortage of SM-6 parts in the United States. Japan is set to become the first export customer of this missile type. SM-6, SM-3 and SM-2 are all designed and produced by Raytheon.
As we reported recently, the Maya-class destroyers will feature a cooperative table developed by Japanese company Fujitsu. Placed in the CIC, this table will be used for mission planning, among other tasks.
For electronic warfare, the Maya-class is fitted with NOLQ-2C ESM (Electronic Support Measures) and Mk.137 decoy launchers. The Maya-class is not fitted with any ECM (Electronic Countermeasures) system.
For anti-submarine warfare, the Maya-class is equipped with an AN/SQS-53C bow sonar and a Multi-Function Towed Array (MFTA) sonar at the stern.
Last but not least, the Maya-class would typically deploy with a SH-60K maritime helicopter.