15 Sep 2022
Israeli Navy Accepts Leonardo Main Gun For Saar 6 Corvettes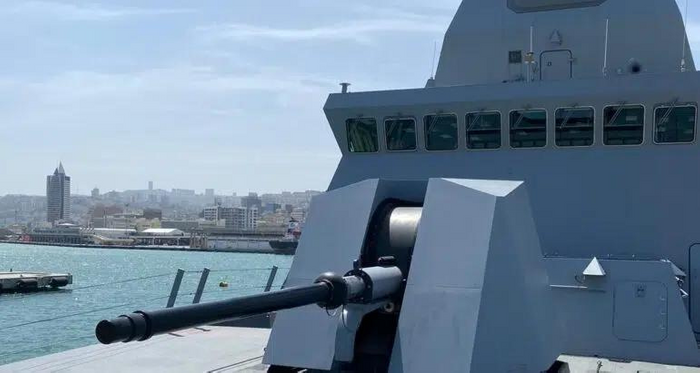 Originally posted on Naval News
On September 13th, at the naval base of Haifa, in Israel, was held Leonardo's 76/62 Super Rapido Multi-Feeding naval gun acceptance ceremony on board the Israeli Navy's ship Oz/Magen Sa'ar 6 class, which overall includes four ships. The 76/62 SR MF will deploy the corvettes' air, anti-surface, and anti-missile defense capabilities.
The Israeli Navy is one of the first worldwide users of the 76/62 Compact gun and six guns are still in operational condition and in use since 1973 on board of Nirit Saar 4.5 class missile boats. The Israeli Navy procured four new guns now installed on board of new Sa'ar 6 corvettes and it is expected that advanced ammunition and more new guns will be procured in the coming years.
The 76/62 Super Rapido naval gun is a technologically advanced system able to satisfy the most stringent modern operational requirements.
Already chosen by more than 60 navies worldwide, the system stands out for its rate of fire of 120 rounds per minute, which allows it to face any type of scenario, from the air and anti-surface defense to anti-missile defense, and with its Multi – Feeding loading system. This allows the selection in real-time with conventional or guided ammunition depending on the specific scenario. The naval gun maintains an exclusive capability to integrate ammunition equipped with multifunctional programmable 3AP fuzes and 4AP fuzes developed and manufactured by Leonardo, guaranteeing maximum effectiveness, accuracy, and high operational flexibility based on mission-specific configuration programmability features.
Compared to the naval defense systems of its category today available, the 76/62 Super Rapido grants maximum operational flexibility thanks to its capability to integrate and fire all types of conventional ammunition available on the market.
It enables the firing of Leonardo's SAPOMER, the only conventional ammunition to achieve a range of 20 km, and also the new Leonardo's Vulcano guided ammunition, which allows the engagement of a target up to 35 km with metric accuracy at any distance by maintaining high distances from threats. Vulcano ammunition can be also equipped with the latest generation of seekers (IR-Infra Red and SAL-Semi Active Laser), which further increases accuracy by eliminating the margin of error and reducing risks even in the most challenging environments. The 76/62 Super Rapido is the only system able to fire these two ammunition types.
Strales kit of Leonardo provides the engagement of the most challenging targets, such as subsonic and supersonic threats. Strales kit includes a special shield for the carriage and a Radio Frequency (RF) antenna to guide the latest generation of Leonardo's DART (Driven Ammunition Reduced Time of Flight) ammunition with its high maneuvering capacity (higher than that of a missile). It also features an engagement range of 6 – 8km and a programmable fuse able to activate at a certain distance from the target to maximize effectiveness. The antenna, by emitting RF beams, guides the DART ammunition towards the target and guarantees maximum engagement accuracy with 3 or 5 ammunition bursts.
The advanced capabilities that come with using of Strales kit, as well as DART and Vulcano ammunition, can be performed only through the use of Leonardo's technologies.