21 Aug 2023
Indian Navy's 6th Project 17A frigate launched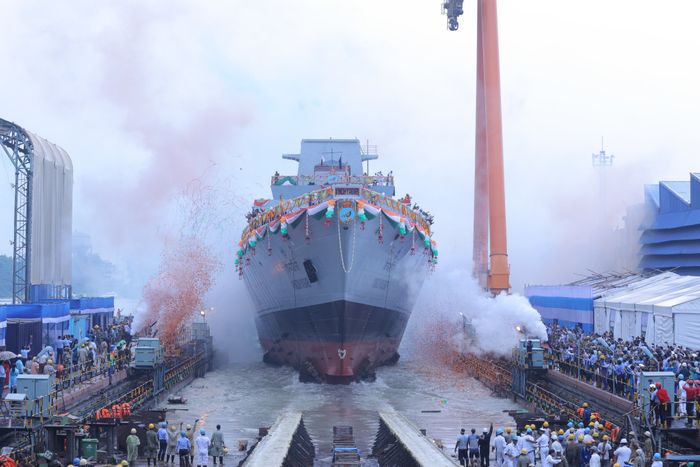 Originally posted on Naval Today
Vindhyagiri, Indian Navy's new Project 17A frigate, was launched at Garden Reach Shipbuilders and Engineers (GRSE) in Kolkata on 17 August.
Vindhyagiri, named after the mountain range in Karnataka, is the sixth ship of the Project 17A frigates. These warships are follow-ons of the Project 17 frigates (Shivalik Class), with improved stealth features, advanced weapons and sensors and platform management systems.
The first and second ship of the series INS Himgiri and INS Dunagiri respectively are presently undergoing outfitting at GRSE.
To improve quality and shorten build times, P17A advanced frigates are being constructed using an Integrated Construction Methodology and improved pre-outfitting.
The second ship of this series, INS Dunagiri, was launched in July 2022. Launching of two warships of this size and complexity in just over a year speaks volumes about GRSE's capabilities as a premier defence shipbuilder.
These ships have a length of 149 metres and a displacement of over 6670 Tons. Their CODOG propulsion systems allow for speeds of over 28 knots. These frigates are a follow-up of the Shivalik class (Project P-17) that are already in service with the navy.
Project 17A ships have been designed in-house by Indian Navy's Warship Design Bureau.