08 Sep 2022
Hong Kong police launch air-land-sea lockdown for underwater mine removal after discovery of wartime device with over 220kg of explosives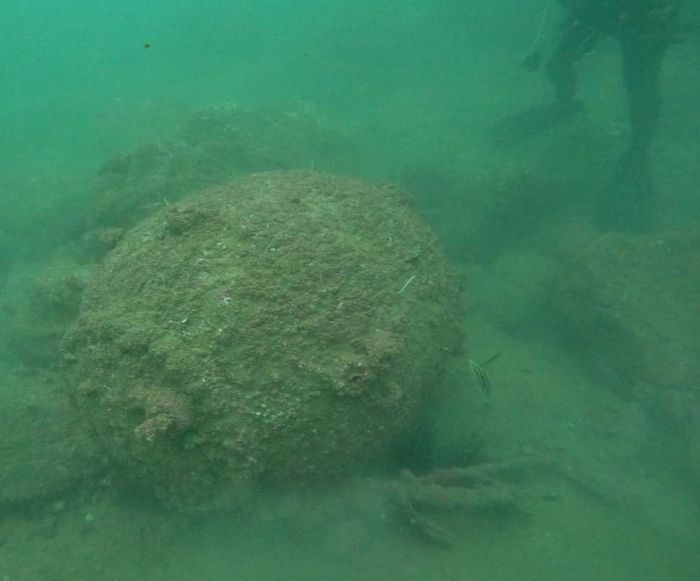 Press release from The Government of the Hong Kong Special Administrative Region
The Explosive Ordnance Disposal Bureau (EODB) of the Hong Kong Police Force will dispose a naval mine found in the waters off Cape D'Aguilar tomorrow (September 9) afternoon.
On August 9, Police received a report from a member of the public that a suspected bomb was found when he was diving in the waters to the east of Cape D'Aguilar.
Police immediately conducted investigation and confirmed on August 19 the suspected bomb was located in the seabed 15 metres underwater and 1.4 kilometres to the northeast of Cape D'Aguilar.
Officers of the EODB conducted an on-site inspection afterwards and confirmed that the bomb was a spherical British naval mine from the World War II, measuring one metre in height, 1.5 metres in length and about one tonne in weight. While no immediate danger was detected, the 500 pounds of high explosives inside the naval mine were believed to be still active. As such, officers of the EODB decided to dispose the naval mine to neutralise the relevant threats.
In view of the underwater disposal, the Marine Department has restricted the waters within a one-kilometre radius of the naval mine from noon today (September 8) until the end of the operation tomorrow. During the restriction period, no vessels will be allowed to enter the restricted area.
As enormous noise and water splash will be created during the operation, Police have cordoned off the hiking trails in the adjacent areas from noon today to keep the public away for safety reason. The airspace around Cape D'Aguilar will be listed as temporary restricted flying zone from 9am to 3pm tomorrow.

Police understand the measures may cause inconvenience, but for the sake of public safety, Police would like to appeal to the public for their understanding and co-operation.