23 Oct 2023
HMS Queen Elizabeth's autumn deployment ramps up with intensive flying operations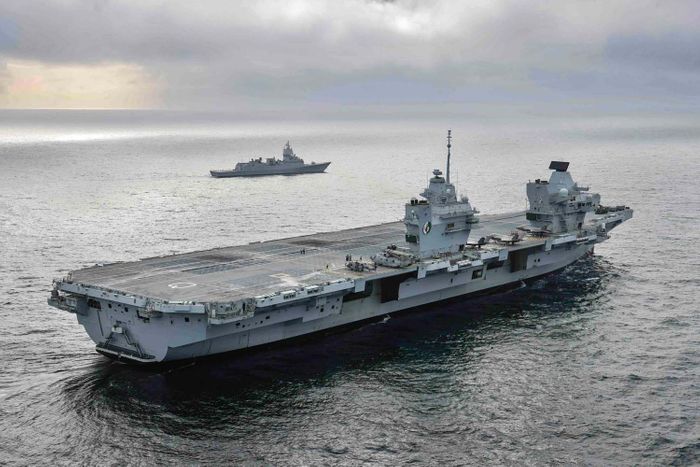 Originally posted on Royal Navy News
The flight deck of HMS Queen Elizabeth has been abuzz as the carrier's air group took part in a range of exercises and training off the coast of Norway.
While the F-35 Lightning jets joined Norwegian Special Forces for combat missions and fired weaponry on Swedish ranges, the carrier's Merlin and Wildcat helicopters played a game of hide and seek with a Norwegian stealth corvette.
Then, in a first for a helicopter launched from a Queen Elizabeth-class carrier, 820 Naval Air Squadron launched a training torpedo to test a weapons system.
The range of activity comes as the UK Carrier Strike Group, led by HMS Queen Elizabeth, ramps up its work alongside allies of the Joint Expeditionary Force (JEF). Sailing in the fjords of Norway and a port stop in Gothenburg, Sweden, gave the task group the opportunity to tighten its bonds with fellow JEF nations.
The Joint Expeditionary Force is a high-readiness task group committed to regional security that can respond to crises either alongside or independent of NATO.
As part of showing its support to the force, HMS Queen Elizabeth met with up with Norwegian frigate HNoMS Otto Sverdrup to practice close manoeuvres and sailing together.
It was then the turn of Merlin from Culdrose-based 820 NAS and Wildcats from Yeovilton-based 847 NAS to show their abilities in an advanced game of hide and seek.
They trained with Norwegian stealth corvette HNoMS Steil, with the Merlins labelled the 'guardians' and tasked with giving situational awareness and providing the Wildcats with the location of suspect vessels.
The Norwegian Skjold class is a fast patrol boat and their thermal cam nets, knowledge of the fjords and anti-ambush tactics, techniques and procedures (TTPs) means if they don't want to be found, they won't. Add in the complex terrain, and the exercise gave a realistic training scenario for the UK flight crews.
Next up, 820 NAS performed a first for a Merlin launching from a Queen Elizabeth-class carrier by launching a Training Variant Torpedo (TVT) abeam of Type 23 frigate HMS Portland. Observers Scott Wilson and Tobias Williams dropped the TVT to test external weapon processes and delivery systems.
The torpedo was collected by Portland's sea boat and returned to the warship.
Meanwhile, the F-35 Lightning stealth fighters took part in Norwegian-led Exercise Phoenix Strike which saw the jets work with Norwegian Special Forces for a variety of mission scenarios. This included air-to-air tactical intercepts and deterring enemy air defences.
They also used the sorties as a chance to meet up with a UK Voyager to re-fuel.
After finishing their work in Norway, the F-35s carried out live strike missions in Swedish ranges. They fired Paveway IVs – air to ground precision-guided bombs using laser and GPS technology for accurate hits - alongside Swedish Armed Forces.
Wing Commander Stew Campbell, Commanding Officer of 617 Squadron, The Dambusters, said: "617 Squadron have enjoyed an extremely successful five weeks embarked in HMS Queen Elizabeth.
"We have experienced a graduated and increasingly complex training package that has seen us qualify multiple new pilots in carrier operations both day and night, take part in both UK and foreign led large force exercises and employ live ordnance on an air to surface range.
"617 Squadron always enjoy our embarked periods as operating from an aircraft carrier is the pinnacle of aviation activity and we are proud to be a part of it."
HMS Queen Elizabeth took a pause in her deployment with a port stop in Gothenburg, Sweden. It is the first time a carrier of this class has visited the city. While there, she hosted events committed to the Joint Expeditionary Force to forge deeper bonds between the nations' armed forces.
Captain Will King, Commanding Officer of HMS Queen Elizabeth, said: "After a lengthy time at sea, my ship's company and I were delighted to arrive in Gothenburg. We looked forward to hosting defence engagements events to strengthen our long-standing defence connections with Sweden and enjoying a well-earned rest to experience the city.
"For many it was their first visit to Sweden and for some a welcome return to a city they visited with then Fleet Flagship HMS Ark Royal in 2007."