13 Mar 2023
HMS Duncan exercises with French carrier in the Mediterranean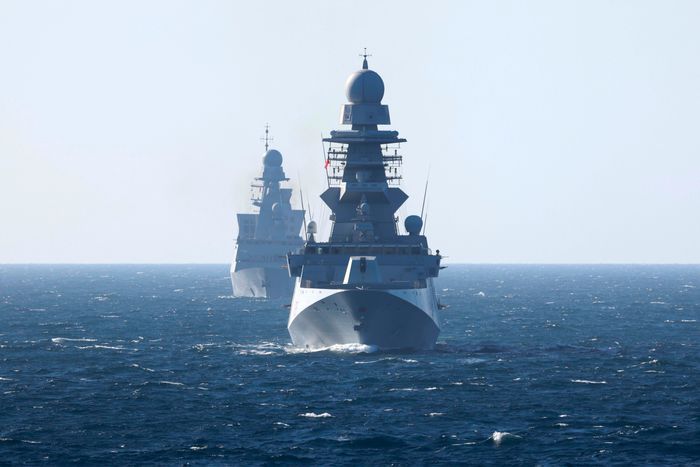 Originally posted on Royal Navy News
Royal Navy warship HMS Duncan has put French aircraft carrier FS Charles de Gaulle through her paces as she played the "enemy" in a series of exercises in the Mediterranean.
Type 45 destroyer HMS Duncan was joined by ships from NATO nations to test the French carrier and her strike group's ability to handle a range of threats.
HMS Duncan headed to the western Mediterranean for Exercise Orion with ships from France, Spain, the United States and Italy who acted as forces fighting against the Charles de Gaulle Carrier Strike Group and a French amphibious task group.
The French-led exercise saw 7,000 personnel, warships, submarines, fighter jets and land forces carry out scenarios they could one day face in conflict – below the waves, on the waves and above the waves, as well as land and air.
HMS Duncan's participation in the exercise comes as the UK and France have committed to working closer together on carrier operations.
During a visit between Prime Minister Rishi Sunak and French President Emmanuel Macron yesterday (10 March), it was agreed the two nations will explore opportunities to demonstrate the sequencing of more persistent European carrier strike group presence in the Indo-Pacific.
This will see the co-ordination of regular deployments between France's Charles de Gaulle aircraft carrier and the Royal Navy's carriers HMS Queen Elizabeth and HMS Prince of Wales.
During Exercise Orion, it was HMS Duncan's job as a specialist in air defence to disrupt the French task group operations, dealing with a challenging adversary and heavy seas in equal measure. To add to the complexity, a team from the Royal Navy's Fleet Operational Standards and Training (FOST) was also embarked to deliver advanced warfare training.
It gave Duncan the chance to test her sensors and ability to create a picture of the surrounding area, covering hundreds of miles as she sought out the French task groups while remaining undetected.
"The scale of this exercise provided a real challenge for the team, requiring us to work effectively with our allies and react quickly to an elusive but highly-trained and capable opponent," said Lieutenant Commander Will Durbin, the ship's Senior Warfare Officer.
Preparation for the exercise started a few weeks ago, aided by Duncan's French Principal Warfare Officer Lieutenant de Vaisseau Mercury, who provided a crucial link with the task force command team in FS Chevalier Paul.
On arrival in Toulon, the ship met up with her task group team– French ship FS Chevalier Paul, Italian ship IS Luigi Rizzo and later US Navy ship USS Nitze.
Ships' tours allowed the crews to socialise with their opposite numbers then warfare drills at sea enabled the task force to understand its strengths and weaknesses. The ability to work together proved crucial to the mission, with simulated attacks soon coming from the Rafales fighter jets of the Charles de Gaulle and the missiles of her escorts.
This is the first major exercise HMS Duncan has been involved in since a major refit and it made for a challenging and rewarding experience for many of the ship's company. They enjoyed putting their skills developed during Basic Operational Sea Training into a realistic scenario.
Engineer technician Tom Hughes said: "Doing defence watches for the first time was great preparation for if we had to do it for real when we deploy."
LSC Clarke added: "The past two weeks have afforded HMS Duncan a fantastic opportunity to prove our ability to operate and sustain at reach, integrate with our NATO allies and conduct logistics support from a task group perspective.
"Not only this but it has allowed us to strengthen our professional relationships that we will draw upon in the future and develop friendships with our French and Italian colleagues that will endure beyond the exercise."
Having proven her ability to work with a multinational task force and conduct sustained warfare operations, HMS Duncan headed back to the UK before preparing to deploy again soon.
Doing defence watche