27 Mar 2023
HMS Defender celebrates ten years of operations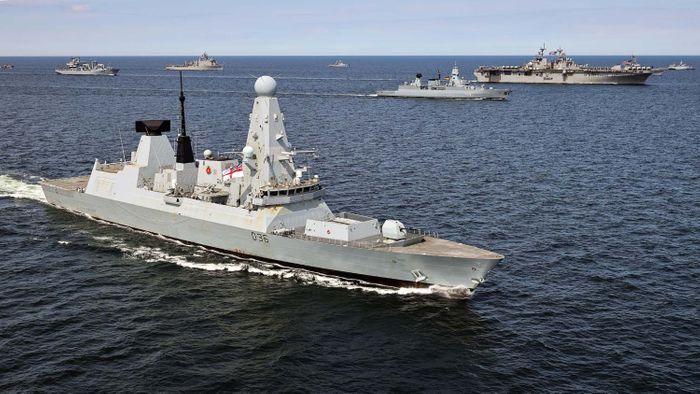 Originally posted on Royal Navy News
Six oceans, more than a thousand days at sea and 270,000 nautical miles sailed.
Those are some of the achievements HMS Defender is celebrating this week as the warship marks ten years since her commissioning.
The type 45 destroyer has been an integral part of the Royal Navy fleet over the past decade contributing to global operations and working alongside numerous allies.
Since her commissioning in her home port of Portsmouth, she has sailed 275,632 nautical miles; spent 26,635 hours or 1,109 days at sea; visited 31 countries; sailed in six oceans and, importantly, consumed nearly 400,000 sausages and 290,170 eggs.
In her primary role as a specialist in air defence, Defender has joined a US Carrier Task Group, deployed with French Navy carrier Charles de Gaulle and her battle group; and sailed with HMS Queen Elizabeth on her landmark maiden operational deployment to the Indo-Pacific.
She has worked on counter-piracy and counter-terrorism operations in the Middle East, seized illegal drugs and escorted ships through international waters.
One of six Type 45 destroyers, HMS Defender has also joined NATO allies on exercises and operations in waters around the UK.
The start of 2023 has been equally busy for the warship and her ship's company. First up, completing Fleet Operational Standard and Training (FOST) to ensure both ship and sailors are ready for frontline operations.
Off the south coast, Defender conducted a series of damage control exercises, emergency scenarios such as fires and equipment failure and gunnery serials.
Her ship's company were then given the chance to march through Exeter, exercising their honour of the Freedom of the City.
After a short training period, she was off to Norway to work with allies and partners in the Arctic Circle.
A short stop in Bergen allowed sailors to pay respects to those killed in the Second World War before the ship headed back to UK waters and a visit to Scotland.