06 Feb 2023
French Navy Receives First VFM Interceptor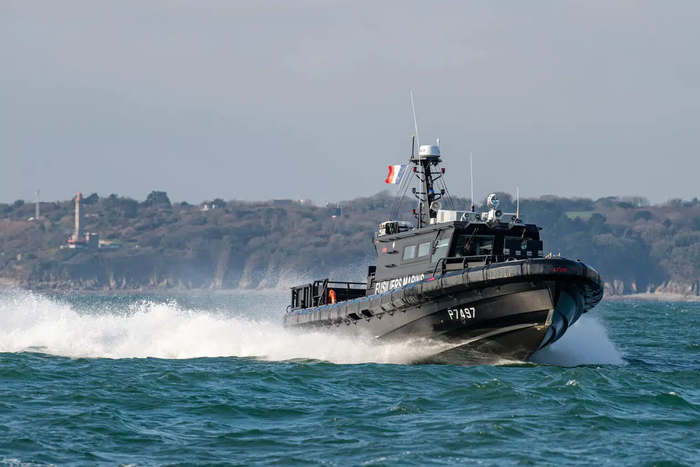 Originally posted on Naval News
Following a phase of industrial technical tests and a phase of state tests that led to its qualification, the DGA declared the acceptance of the first VFM (vedette de fusiliers marins) interceptor.
On 27 January 2023, the first VFM was christened "Bir Hakeim" by the French Navy and joined its homeport of Brest in Brittany. Following a training period for the naval infantry of the French Navy, the vessel is set to achieve Full Operational Capability (FOC) in 2024.
Designed by French shipbuilder Ufast, VFMs will conduct escort missions in maritime approaches, as well as surveillance and protection. They will be able to deny a hostile element access to an exclusion zone through intervention (by specialized team) and neutralization.
They can also be used for defense missions in the context of operations outside of the national territory.
Each VFM is distinguished by:
an ability to sail day and night in various maritime environments (port, estuary, coastal, offshore), but with a size that predestines it primarily for coastal use due to a shallow draft;
a deterrent aspect conferred by its dimensions, appearance, armament, and speed;
an ability to resist attacks (heavy armour) and intervene (12.7 mm machine gun), making it a privileged tool for contact action
Good endurance at sea due to a sheltered wheelhouse, ability to navigate out of sight of land in bad weather, and significant elongation capacity;
maneuvering, shock, and firepower that necessitates the use of a specialized crew.
These boats, with a length of 15 meters and a total loaded weight of 15 tons, will be capable of reaching speeds of 40 knots.
VFMs will be distributed between mainland military ports (Brest, Toulon, and Cherbourg) and Djibouti.
The French Navy chose historical names for the VFMs, citing several high feats of arms and battles in which marine riflemen distinguished themselves.