05 May 2023
Fleet Air Arm fliers prepare for historic role in Coronation flypast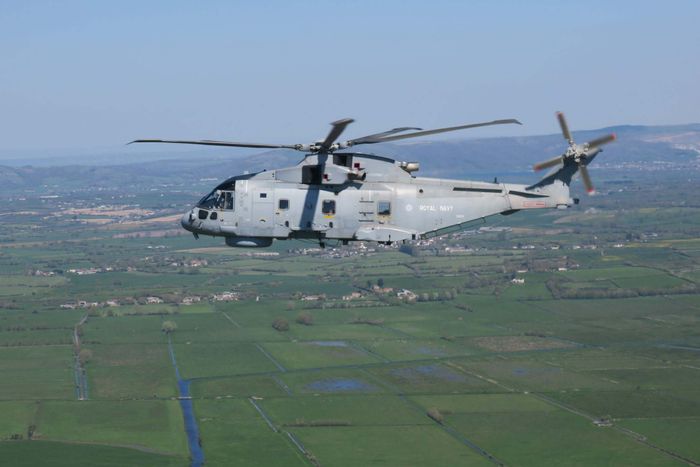 Originally posted on Royal Navy News
Six Royal Navy helicopters will lead the historic Coronation flypast over Buckingham Palace on Saturday.
Drawn from Fleet Air Arm squadrons, front-line Merlins and Wildcats will fly in the first section, immediately behind the military's training helicopters.
In total 64 helicopters and aircraft from the Royal Navy, Army Air Corps and Royal Air Force – including the Battle of Britain Memorial Flight and the Red Arrows – will take part in the spectacular event over central London at 2.30pm.
Representing the Royal Navy will be a Wildcat Mk2 helicopter from RNAS Yeovilton in Somerset, followed by a pair of submarine-hunting Merlin Mk2 helicopters from RNAS Culdrose in Cornwall.
Next in line will be a battlefield Wildcat from the Commando Helicopter Force's 847 Naval Air Squadron flanked by two Merlin Mk4 helicopters of 845 Naval Air Squadron, normally used to carrying Royal Marines and their kit into battle.
In charge of the lead Wildcat, from 825 Naval Air Squadron, is observer Lieutenant Commander Adrian 'Paddy' McWilliams, who is now in his 37th year in the Royal Navy.
He said: "This is potentially my last flight as I am due to join the Defence Accident Investigation Branch later in the month – and what a memorable last flight it should be."
Alongside him will be pilot Lieutenant Scott Sunderland, a training instructor who is also a part of the Royal Navy's helicopter display team.
He added: "Taking part in the King's Coronation Flypast is a huge honour and will be made even more special for me as my first baby is due on July 18. I am hugely grateful to the Wildcat Force for allowing me this privilege and it will be a great story to tell my child when he or she is older."
The Merlin Mk2s come from the Merlin Helicopter Force, drawn from 820 and 824 Naval Air Squadrons.
Commanding one of the Merlins is 44-year-old pilot Lieutenant Commander Paul 'Jack' Ryan, who said: "This is our chance to pay our respects to our new Commander-in-Chief – we are after all His Majesty's Armed Forces. I've flown over London before but not over The Mall and Buckingham Palace."
Sitting next to him will be pilot Lieutenant Dan Cochrane, on exchange from the Royal Australian Navy, while in the rear, one of the aircrew is 28-year-old Lieutenant James Firth, from Guernsey.
Lieutenant Firth, an airborne surveillance and control observer, added: "It's very exciting. I am only six months into my first front-line tour and something like this is a once-in-a-career opportunity."
The full flypast will take six minutes to pass overhead, ending with the iconic Red Arrows. With true military precision, the entire event is being coordinated and timed with a margin of just five seconds leeway.
The Fleet Air Arm will also be represented on the ground with personnel marching in the Coronation procession and lining the streets of the capital alongside their Armed Forces comrades.
Air Engineer Technicians Amy and Jessica McLenaghan from 846 Naval Air Squadron are identical twins who'll be marching in the Royal Navy detachment.
"We were hoping that we could be together on this, which has happened, so that's amazing. We're marching as a contingent for the Royal Navy at the front," said Amy.
"I think it's a really proud moment to say that we've had the opportunity to do this. Doing our job as aircraft engineers – you don't get many women in those branches. It was quite nice seeing that there are lots of women throughout the military. Hopefully it encourages more people, more women, to join if they see all of us."- Air Engineer Technicians Amy McLenaghan