29 Mar 2023
First minehunter of Belgian-Dutch RMCM program hits the water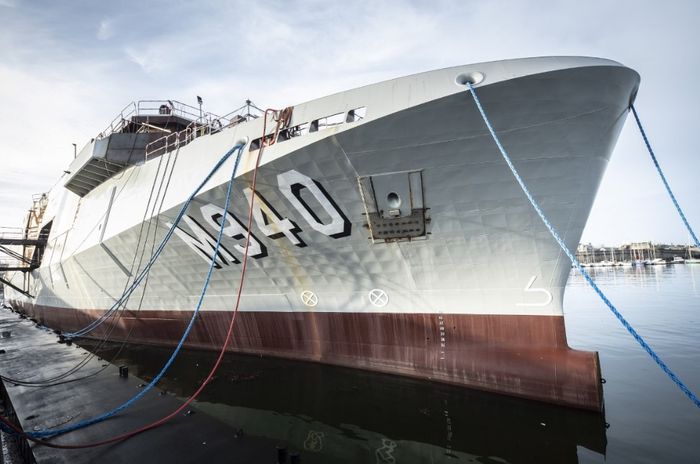 Originally posted on Naval Today
French shipbuilder Naval Group has launched the first of the twelve mine countermeasure vessels of the Belgian-Dutch rMCM program, M940 Oostende, intended for the Belgian Navy.
As informed, the vessel was floated out in Concarneau today (29 March).
Today, Naval Group also laid the keel for the third of the twelve vessels, M941 Tournai, intended for the Belgian Navy. This programme was awarded in 2019 to Belgium Naval & Robotics, the consortium formed by Naval Group and Exail1, following an international competition.
It provides for the supply to the Belgian Navy and the Royal Netherlands Navy of twelve mine countermeasures vessels and around a hundred drones integrated inside a toolbox that will equip the vessels.
The first delivery is scheduled for the end of 2024 in Zeebrugge, Belgium. Deliveries will then be staggered until 2030.
"I am very pleased to be present here in Concarneau at our Piriou partner shipyard, alongside Exail, to celebrate the progress of this unique programme which is the story of a shared vision for the future of mine warfare and European naval defence," Pierre Eric Pommellet, CEO of Naval Group said.
"In a world in full swing due to geopolitical upheavals, our cooperation is all the more strategic. The operational concept developed by the Belgian and Dutch navies is a world first and revolutionary in several ways. This project, whose first ship is launching today, shows that cooperation, solidarity and innovation are key values for our common security," Ludivine Dedonder, Belgian Minister of defence stated.
The vessels are the first to have the capability to embark and launch a combination of surface drones (themselves 12-metre, 18- tonne vessels), underwater drones and aerial drones.
The mine countermeasures vessels will use a mainly autonomous system for detection, classification and neutralisation of mines. They can withstand underwater explosions and have very low acoustic, electrical and magnetic signatures, in line with the missions to be carried out.
To remind, the keel for the second vessel in this class was laid last June.