21 Nov 2022
Final FREMM Frigate 'Lorraine' Delivered To The French Navy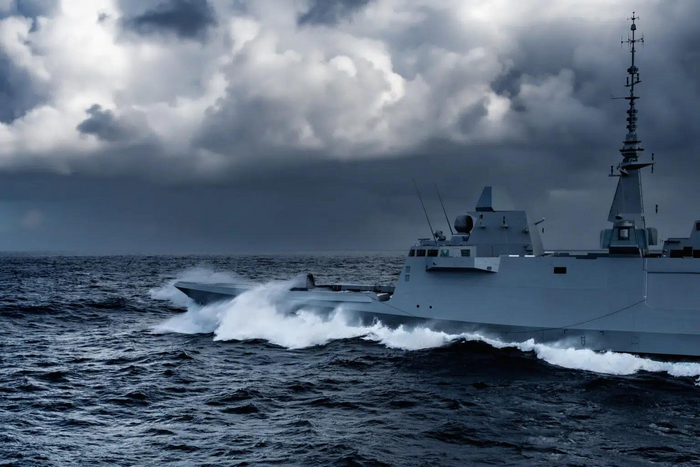 Originally posted on Naval News
The delivery took place at the French Navy (Marine Nationale) naval base of Toulon, in Southern France, the home-port of Lorraine (D657).
Lorraine joins frigates Alsace (D656, the first FREMM DA), Provence (D652) and Languedoc (D653) which are also home-ported in Toulon.
The Frigate departed the Naval Group shipyard of Lorient (Brittany) on 3 November. A number of tests were conducted during her transit to the Mediterranean Sea:
"to check the proper functioning of its 76mm turret and prepare for the forthcoming qualification of its artillery chain with the very promising STIR fire control." - French MoD statement
Our recent video coverage of Lorraine departing the Naval Group shipyard in Lorient, ahead of her delivery:
Lorraine was launched in November 2020 and started sea trials in February 2022. She will now continue the verification of its military characteristics (VCM). In other words, her crew will conduct an evaluation of the performance of the various systems, through complex exercises and a long-term deployment (often called long cruise or check down cruise). The vessel will then formally enter "active service" ("admission au service actif" in French).
About FREMM DA
According to Naval Group, the FREMM DA Alsace and Lorraine are strongly armed surface combatants fitted with the most performant weapon systems and equipment such as: the Herakles multifunction radar, the Aster 15 and 30 surface to air missiles, the Exocet MM 40 anti-ship missiles or the MU 90 torpedo. The performance of their combat system are reinforced with increased radar and communication capacities, a new fire control radar, and a SETIS CMS fitted with specific anti-air defense functions.
While the FREMM DA retains the same anti-submarine warfare (ASW) capabilities as earlier vessels of the Aquitaine-class (with CAPTAS-4 and UMS 4110 CL sonars), its so called "increased capabilities in air defense" consists in a few notable changes:
The Thales Herakles multi-function radar is more powerful, has more transmitter modules, additional wave-forms and search modes for long range air defense
A Thales STIR EO MK 2 fire control radar replaces the Najir by Sagem (providing better AAW and ASuW capabilities to the 76mm main gun)
Reinforced bridge structure to accommodate the extra weight of the above
4x Sylver A50 vertical launch systems for a total of 32x MBDA Aster 15 or 30 surface to air missiles
Additional communication systems and antennas
3x additional consoles in the CIC (the global arrangement inside the CIC has been modified accordingly) for a total of 20 aboard the ship
Modifications to the SETIS combat management system with specific air defense functions
Additional berthing
According to the French Navy's FREMM program manager, the FREMM DA main mission will be area air defense of major Marine Nationale units such as the Charles de Gaulle aircraft-carrier and the three Mistral-class LHDs, within a carrier-strike group or as part of an amphibious group.
Technical characteristics of the FREMM DA
Overall length: 142 m
Width: 20 m
Displacement: 6,000 tons
Max. speed: 27 knots
Complement: 119 sailors (+ 14 for the aviation crew)
Accommodation: 165 men and women
Range: 6,000 at 15 knots
FREMM DA weapon systems
8 Exocet MM40 Block 3 anti-ship missiles
32 Aster missiles in Sylver® vertical launch systems
One 76 mm main gun
Four 12.7 mm machine guns
19 MU90 torpedoes
One NH90 NFH maritime helicopter
Two Narwhal 20 mm remotely operated guns