11 Oct 2023
Duncan gets the gang back together as NATO force regroups in the Mediterranean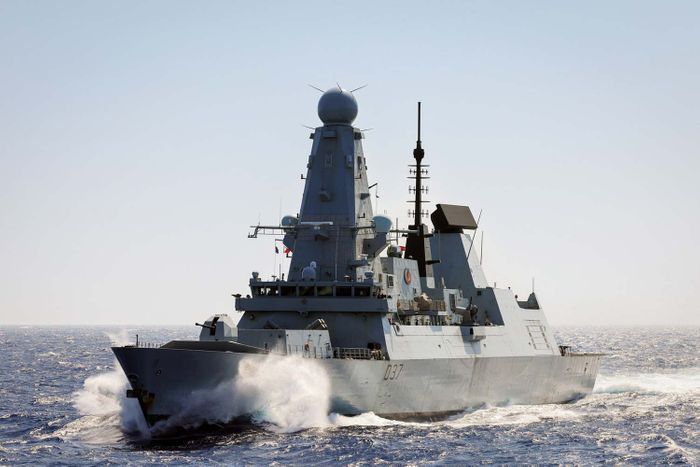 Originally posted on Royal Navy News
The gang is back together…
After almost a month dispersed throughout the Mediterranean region on individual duties, NATO's Royal Navy-led task group has re-formed.
All seven ships in Standing Maritime Group 2 – commanded from Portsmouth-based destroyer HMS Duncan – have joined forces for a collective show of resolve.
Duncan and her staff, led by Commodore Paul Stroude RN, took charge of the task group from the US Navy back in July.
Under the Americans' leadership, the group had experimented with dispersing its vessels throughout the Middle Sea to provide greater coverage and security across waters more than four times the size of the North Sea.
It's regular practice east of Suez where the Royal and US Navies operate with the Combined Maritime Forces to patrol some 2½ million square miles of ocean with a small number of major warships.
Having enjoyed relative independence, the seven vessels assigned to NATO's premier Mediterranean naval force are now back operating closely together.
They spent a week getting used to each other once more courtesy of a comprehensive and high-intensity training package.
This challenged them through a variety of increasingly-complex integration scenarios, including: tactical communications and manoeuvring, live gunnery, air defence, surface warfare and replenishment-at-sea.
Around 1,500 personnel from six nations are assigned to the seven ships, headed by the 200-plus souls on Duncan. She's joined by Spain's ESPS Méndez Núñez, ITS Margottini (Italy), FS Surcouf (France), TCG Yavuz (Turkey) and two support ships: Germany's FGS Frankfurt Am Main and the Spanish ESPS Patiño.
"Each nation brings its own capabilities and unique strengths to the group," Commodore Stroude said.
"The opportunity to train together so as to be able to understand and maximise these attributes, while reinforcing our common tactics and procedures, is vital to maintaining the ability of these NATO ships to operate together. This in turn is key to our success as a task group."
The recent addition of the Patiño has significantly increased the group's ability to remain at sea for sustained periods, on top of the fuel and supplies already provided by Germany's Frankfurt am Main.
In a demonstration of this capability, Duncan, Méndez Núñez and Surcouf conducted a complex replenishment-at-sea with Frankfurt Am Main, simultaneously pumping fuel to two ships, whilst also transferring personnel via helicopter.
Another key part of the week's integration training saw the force's five-strong force of helicopters rack up dozens of hours of flying, extending the range and scope of their ability to monitor the Med well beyond the ships themselves.
After numerous landings on each other's ships throughout the week, air and flight deck crews have shown that they are well prepared for combined operations.