13 Jan 2023
BBC to broadcast documentary covering the 2021 Carrier Strike Group deployment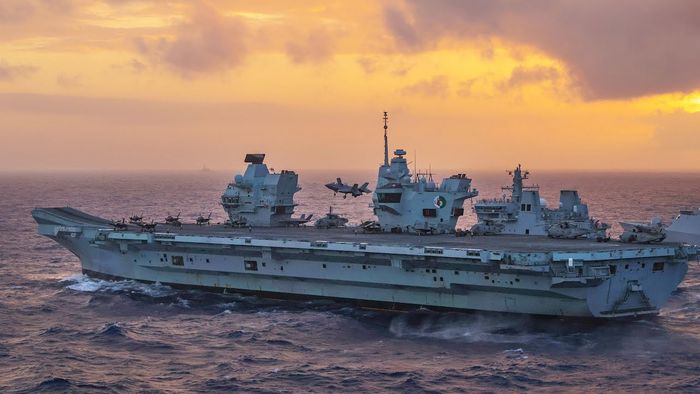 Originally posted on NavyLookout
The first of a long-awaited 6-part documentary series "The Warship: Tour of Duty" covering the Royal Navy's Carrier Strike Group deployment (May-December 2021) will be broadcast on BBC Two and iPlayer on Sunday 22nd January 2023 at 9pm.
Film-maker Chris Terril was on board HMS Queen Elizabeth for the whole deployment given great freedom of access. The series is the third made by Terrill following "Britain's Biggest Warship" which covered QE's journey from shipyard to commissioning and her first overseas trip to the US for flying trials in 2018. A book "How to build an aircraft carrier" published in 2022 accompanies the first two series.
The new series follows the carrier and crew, including 350 US marines on the 20,000-mile round trip from Portsmouth to the South China Sea supported by destroyers, frigates and auxiliaries. Terrill told Televisual: "I have made many films on board Royal Navy warships but this series was the most exciting, surprising, challenging, and rewarding of my career. None of us on board returned home the same person who left. It has been my privilege to capture this life-changing deployment to share with viewers."
The diverse ship's company has an average age of just 24 and many of the sailors had never been to sea before. With 1,600 on board, the series focuses on a few representative individuals, from the most junior to the most senior. Events take place before the Ukraine war but were heavily impacted by COVID which curtailed many of the expected chances for runs ashore. The deployment was an opportunity to demonstrate the RN's latest capabilities to allies and adversaries and was conducted against a backdrop of complex international tensions.
Of note in the trailer above is that the MoD has allowed the inclusion of official footage from the take-off accident that led to the loss of an F-35 jet on 17th November 2021. The footage was originally leaked online and those responsible were subsequently disciplined.
In the first of the episodes, each an hour in length, QE is shadowed by Russian ships in the Mediterranean, weapons are tested in preparation for what lies ahead and the ship makes her first port call in Sicily.