01 Nov 2022
BAE Systems preps for upcoming launch of 1st Type 26 frigate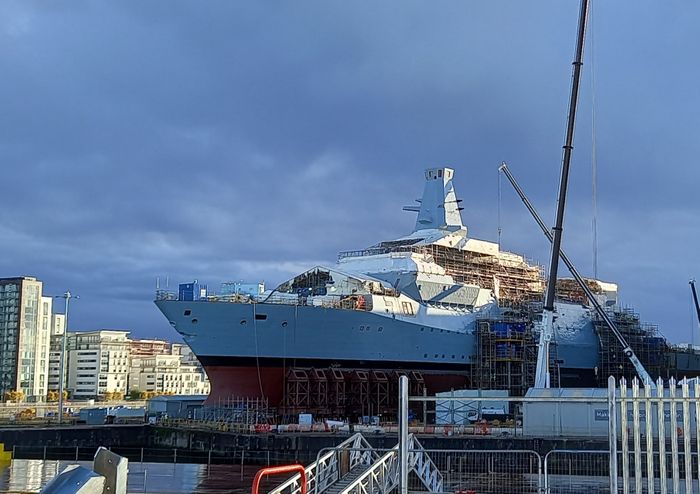 Originally posted on Naval Today
UK-based shipbuilding major BAE Systems has revealed that the firm is preparing for the launch of the first Type 26 frigate being built for the Royal Navy.
As informed, the company is currently working with Scottish marine service provider Malin Group across Clyde. The firms teamed up to roll HMS Glasgow on the barge Malin Augustae.
Working with our supplier @Malingroup, our teams across the Clyde are readying HMS Glasgow to roll on to her awaiting barge and enter the water for the first time later this year. It's getting exciting around here! #BargeTests #GlobalCombatShip #historymakers pic.twitter.com/FrMe6lpSiZ

— BAE Systems Maritime (@BAES_Maritime) October 26, 2022
The barge will initially be used for the launch of the Royal Navy's new Type 26 vessels, under a contract with BAE Systems, and will also be available to charter for other marine engineering projects.
It can submerge to a maximum 11 meters over deck allowing her to float off cargos with up to 9.5 meters draught subject to support type and clearance requirements. Its split caisson arrangement allows cargo to overhang fwd and aft. The caissons can be relocated as required to suit project requirements, according to Malin Group.
Earlier on, BAE Systems confirmed that the Royal Navy's first Type 26 anti-submarine frigate HMS Glasgow will enter the water later this year.
HMS Glasgow is the first in a new generation of Royal Navy's Type 26 frigates, designed and built in the ship's namesake city.
Each of the Type 26 units will be equipped with a range of advanced capabilities including the Sea Ceptor missile defense system, a 5-inch medium caliber gun, flexible mission bay, Artisan 997 Medium Range Radar and towed array sonar.
Moreover, they will be armed with the future cruise/anti-ship weapon (FC/ASW).