31 Mar 2023
Austal USA Launches USNS Cody (EPF14) and KIngsville (LCS 36)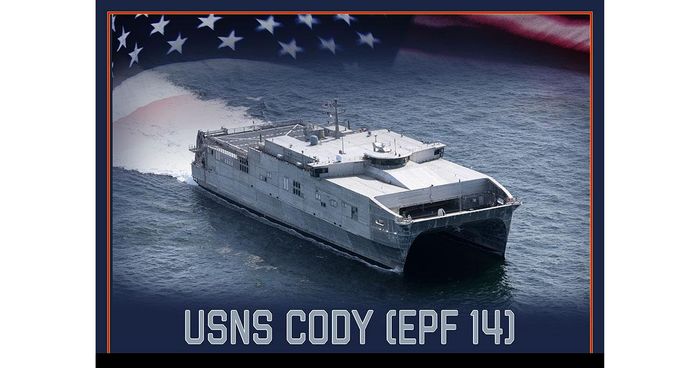 Austal USA Press Release
This past week Austal USA launched two Navy ships, USNS Cody (EPF 14) and the future USS Kingsville (LCS 36), demonstrating the efficiency of the shipyard's launch process. Both ships are now docked pier side for final outfitting and system activation in preparation for sea trials later this year.
During the launch process, the ships – which weigh upwards of 2,500 metric tons – are lifted almost three feet in the air. Using transporters, the ships are moved approximately 400 feet onto a moored deck barge adjacent to the final assembly bay. The ships are transferred from the deck barge to a floating dry dock which is then submerged enabling the ships to float for the first time.
"The launches this week are a testament to the skill and capability of our shipbuilders but are also demonstrative of how we optimize efficiency through process discipline," stated Austal USA Vice President of New Construction, Dave Growden. "Our test and activation, crane and rigging, and safety teams work methodically alongside our Navy partners and key vendors such as Berard. Those partnerships allow us to continually examine our process, identify opportunities for improvement, and more effectively achieve these major ship milestones."
With both ships in the water, production efforts will transition to final outfitting and system activation to support the ships getting underway for sea trials. The USNS Cody, which was christened last month, is the Navy's first Expeditionary Fast Transport (EPF) Flight II vessel. As the first EPF Flight II, the ship represents enhanced Naval medicine afloat capabilities and will provide critical combat care in austere and contested operating environments. As the Navy's 18th Independence-variant Littoral Combat Ship (LCS), the future USS Kingsville will be deployed to the Pacific fleet area of responsibility supporting forward presence, maritime security, sea control, and deterrence. Kingsville will be christened at Austal USA's shipyard next month.
Both ships are aluminium builds and represent the nearing completion of the EPF and LCS new construction programs. USNS Cody is the 14th EPF and Kingsville is the 18th of 19 Independence-variant LCS that Austal USA is building for the Navy.