16 Mar 2023
Austal USA Awards FMD Contract for Cross Company Portfolio of OPC WMSM-919 Equipment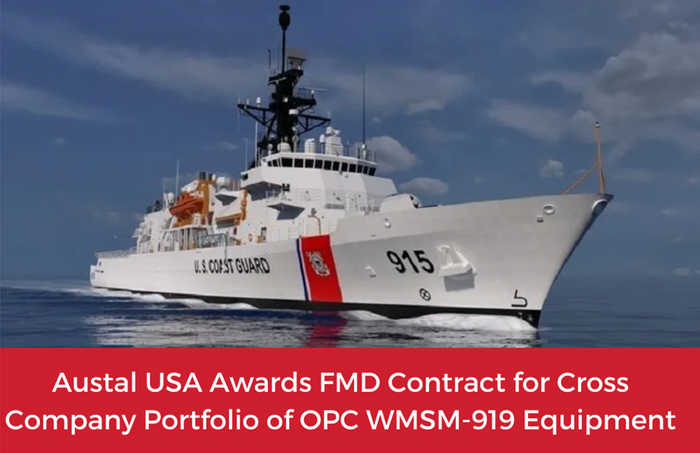 Fairbanks Morse Defense Press Release
Fairbanks Morse Defense (FMD), a portfolio company of Arcline Investment Management (Arcline), has been awarded a contract by Austal USA for a portfolio of equipment to support the construction of WMSM-919, the U.S. Coast Guard's next Heritage-class Offshore Patrol Cutter (OPC). The portfolio includes systems from the company's multiple brands, reinforcing FMD's position as a single-source defense contractor capable of providing fully integrated solutions for maritime defense.
"Receiving this contract from Austal encapsulates what we've been working toward in recent years through the acquisition of several strategic maritime suppliers," said FMD CEO George Whittier. "The industry recognizes the tremendous added value we can bring through our ability to provide projects with a comprehensive equipment portfolio that spans all of our brands. We look forward to working with Austal on this program and further demonstrating our wide range of capabilities."
Four of FMD's recently acquired companies will be involved in this contract. The cross-company package for WMSM-919 includes the following:
Main Propulsion Diesel Engines (2) through Fairbanks Morse Defense
Hangar Door (1) through Federal Equipment Company (FEC)
Stores Elevator (1) through Federal Equipment Company (FEC)
Reverse Osmosis System (1) through Maxim Watermakers
All-Electric Davits (2) through Welin Lambie
Various Electrical Components (cable trays, light supports, piping supports, down commers, stuffing tubes, etc.) through Research, Tool & Die (RT&D)
In July 2022, Austal USA was awarded a contract from the Coast Guard for detail design and material acquisition for the fifth OPC hull, with an option for up to 11 hulls.
FMD was previously contracted to provide the main propulsion engines for the Argus (WMSM-915), Chase (WMSM-916), Ingham (WMSM-9170, and Rush (WMSM-918). Earlier this year, the Coast Guard awarded FMD a contract for opposed-piston engine parts for its Bay Class icebreaking tugboats.
For more than 100 years, FMD has provided products and services to the Coast Guard and Navy. Today, the defense contractor powers over 65% of the Coast Guard's ships with medium-speed applications and supplies davits to 4 different classes of Coast Guard vessels.
The defense contractor has rapidly expanded its array of best-in-class marine technologies, OEM parts and turnkey services for marine defense customers through expansion and acquisitions of companies that include Federal Equipment Company (FEC), Hunt Valve, Maxim Watermakers, Research Tool & Die (RT&D), Ward Leonard, and Welin Lambie. FMD is unlocking the future of maritime technology through its recently launched Center of Technology Excellence.
About Fairbanks Morse Defense (FMD)
Fairbanks Morse Defense (FMD) builds, maintains, and services the most trusted naval power and propulsion systems on the planet. For more than 100 years, FMD has been a principal supplier of a growing array of leading marine technologies, OEM parts, and turnkey services to the U.S. Navy, U.S. Coast Guard, Military Sealift Command, and Canadian Coast Guard. FMD stands ready to rapidly support the systems that power military fleets without compromising safety or quality. In times of peace and war, the experienced engineers, sailors, and technicians of FMD demonstrate our commitment to supporting the mission and vision of critical global naval operations wherever and whenever needed. FMD is a portfolio company of Arcline Investment Management.
To learn more, visit www.FairbanksMorseDefense.com.
###
Fairbanks Morse Media Contact:
Mercom Communications
Michelle Hargis
Tel: 512-215-4452