06 Mar 2023
Amphibious flagship heads for Norwegian mission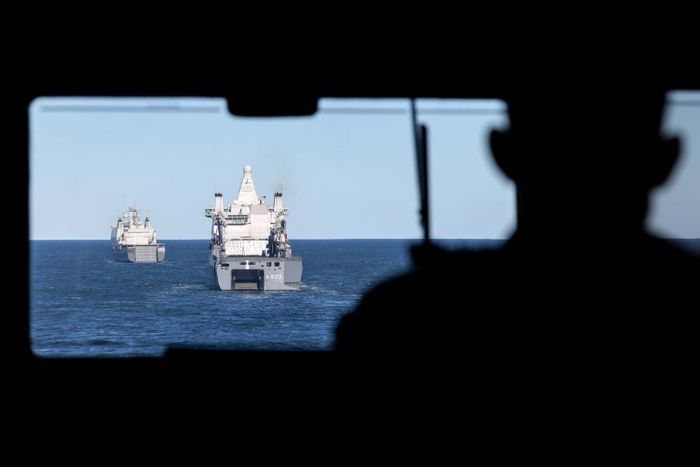 Originally posted on Royal Navy News
The Royal Navy's amphibious flagship is ramping up for Arctic exercises alongside NATO allies and partners in Norway's stunning fjords.
HMS Albion left her home of Plymouth on a mission to support amphibious landings with Royal Marines along Norway's rugged coastline on exercises known as Joint Viking 23.

These international exercises are organised by Norway and are designed to test allies in cold weather warfare skills, ensuring they are ready to fight across the Arctic's waters and wilds seamlessly.

Before reaching the high north, Albion's sailors and Royal Marines were put through their paces on 'internal battles' – a test to make sure they're ready for what's ahead.

The ship sustained simulated battle damage with sailors' reactions tested by Albion's internal training team, as fires were put out and repairs rapidly made.

Leading the internal training team effort, HMS Albion's First Lieutenant Commander Chris Carter said: "Although second nature for the ship's company, these serials are vital in ensuring we remain safe, highly trained, and ready for any eventuality.

"The coming weeks will demonstrate both the UK's amphibious strike capability and the UK's commitment to the security of our partner nations."

Albion has now joined a Joint Expeditionary Force (JEF) task group led by Dutch flagship HNLMS Rotterdam ahead of their Norwegian mission.

The assault ship took on some rough seas and high winds as they entered Norwegian territorial waters.

Lieutenant George Willmott, Albion's deputy navigator, said: "A number of frontal systems passing through the area has produced eight to ten metre seas and 50 to 60 knots of wind.

"Despite this, Albion continues her transit to meet up with partner nations in the high north, such as Norway and the Netherlands to participate in Exercise Joint Viking. We are making good progress."

JEF is made up of ten like-minded nations led by the UK – it includes Norway, Denmark, Finland, Estonia, Iceland, Latvia, Lithuania, the Netherlands and Sweden.

Together, they react to events in northern Europe's waterways, ready to respond to crises and world events.

To ensure they're ready for any eventuality, training and exercises regular take place together.